Mike Nova's Shared NewsLinks
Mike Nova's Shared NewsLinks
The Russia – West E-Curtain – Google Search
---
U.K. Lawmakers Ask Facebook About Russian Influence in Brexit Vote
---
<a href="http://NYTimes.com" rel="nofollow">NYTimes.com</a> no longer supports Internet Explorer 9 or earlier. Please upgrade your browser. 
LEARN MORE »
campaign: anchoredAd_subs_store_relaunch0717, creative: AnchoredAd, source: optimizely
Signed in as mikenova
Share this story on NewsBlur
Shared stories are on their way…
UK Lawmakers Ask Facebook About Russian Influence in Brexit Vote – New York Times
| | |
| --- | --- |
| | mikenova shared this story from elections 2016 russian ads on social media – Google News. |
---
Why Robert Mueller May Be the Last Hope to Link Trumpworld to Russia
---
House Intelligence Committee member Rep. Mike Conaway and ranking member Rep. Adam Schiff.
By Chip Somodevilla/Getty Images.
As the one-year anniversary of Donald Trump's victory fast approaches, any hope that the three congressional committees tasked with investigating Russian interference in the 2016 election will determine whether the Trump campaign colluded with the Kremlin—or will surface any substantive findings—has begun to dissipate amid staffing issues, partisan quibbles, and continued starts and stops. Even lawmakers have conceded that if any investigation will uncover a definitive conclusion, it will be Robert Mueller's deepening F.B.I. probe. "There's no proof yet that it's happened, and I think that proof will likely come with Mr. Mueller's investigation," Senator Dianne Feinstein, the ranking member of the Senate Judiciary Committee, said of the collusion question during a recent interview. "He's got the ability to use a grand jury. He's got the ability to use the power of subpoena without question. And he's got the ability to do a criminal investigation."
The morass has been most evident among the House Intelligence Committee, where the partisan divide is, arguably, the deepest. Earlier this year, tensions between the panel's chairman, Devin Nunes, and its ranking Democrat, Adam Schiff, spilled into the open when it was revealed that Nunes received classified information from the White House, which he subsequently showed to Trump—a move that forced him to abdicate his leadership position. But the intelligence committee has struggled to get back on track. The New York Times reports that Democrats are frustrated with Nunes's continued meddling in the probe. "Frankly, I have been doing everything I can to try to get us to do a credible investigation and to reach a common conclusion," Schiff, who himself has drawn criticism for his frequent media appearances, said. "I view these things as obstacles that are in the way to overcome, and I am doing my best to overcome them almost daily."
Nunes's successors haven't fared much better. Trey Gowdy, who along with K. Michael Conaway of Texas and Tom Rooney of Florida took control of the panel from Nunes, irked his Democratic counterparts when he said that Jared Kushner was in an "unwinnable" situation, suggesting he was being unfairly targeted. "Congressional investigations unfortunately are usually overtly political investigations, where it is to one side's advantage to drag things out," Gowdy, who rose to prominence during the Benghazi hearings, told the Times. "The notion that one side is playing the part of defense attorney and that the other side is just these white hat defenders of the truth is laughable."
The Senate Intelligence Committee has managed to maintain more amity between members. But while its chairman Richard Burr and ranking Democrat Mark Warner have projected a professionalism absent in the House, both lawmakers have expressed doubts that they will deliver a clear-cut conclusion. "At the end of the day, what we owe the American people is the truth," Warner said during an interview on Thursday, the Times reports. "And if there's something there, then they should know that. And if there's not something there, I'll be the first to acknowledge that." Burr told reporters that they "hit a wall" in its investigation into the infamous dossier compiled by former British spy Christopher Steele, and that any hope that the Senate investigation would surface criminal charges was misguided. "The special counsel is focused on criminal acts; we're not focused on criminal acts," he said. "If we find one, then they're the first phone call we make."
The third congressional committee investigating the Russian interference, the Judiciary Committee, has been similarly plagued by starts and stops in its probe. As the Times reports, its chairman Chuck Grassley agreed to dig into former F.B.I. Director James Comey's ouster, among other angles of the Russian interference, but since interviewing Donald Trump Jr., the committee's work has stalled. An earlier attempt by the panel to interview Trump's former campaign chairman Paul Manafort was derailed after Mueller's team reportedly informed the longtime political operative that he would face an indictment, leading to the postponement of his hearing. (Manafort has repeatedly denied any wrongdoing.)
That leaves the Justice Department to close the case, such as it is. Mueller's investigation has continued apace, with NBC News reporting Monday that Tony Podesta (brother of longtime Clinton aide John Podesta) and his lobbying firm, the Podesta Group, are the latest subjects of the F.B.I. investigation. The Podesta Group worked on a campaign for the European Centre for a Modern Ukraine (ECMU), a nonprofit tied to Manafort that sought to promote Ukrainian interests in the West. According to NBC News, the Podesta Group is under criminal investigation for potentially violating the Foreign Agents Registration Act, under which individuals lobbying on behalf of a foreign government or political party must disclose their work to the Justice Department. (In a statement, a spokesperson for the firm said it is "cooperating fully with the Special Counsel's office and has taken every possible step to provide documentation that confirms timely compliance. In all of our client engagements, the Podesta Group conducts due diligence and consults with appropriate legal experts to ensure compliance with disclosure regulations at all times—and we did so in this case.") Manafort has become a key figure in Mueller's investigation, indicating either that that special prosecutor sees him as a lynchpin in the case, or as the Trumpworld insider most likely to flip and become a cooperating witness.
Mueller's Russia investigation: What to know
---
As the probe into Russia's influence in the 2016 presidential election continues, Special Counsel Robert Mueller's probe has expanded to include a key Democratic lobbyist.
Tony Podesta, the brother of Hillary Clinton's campaign chairman, and his lobbying firm are now a subject in Mueller's investigations because of the Podesta Group's work on Paul Manafort's PR campaign for a Ukrainian group.
Manafort is President Donald Trump's former campaign manager who has found himself at the center of the investigation into possible Russian collusion in the 2016 presidential election because of his financial dealings and lobbying work with Ukrainian and pro-Russian officials.
Despite some opposition to Mueller's probe from Republicans, Trump apparently isn't "discussing" firing him, and House Speaker Paul Ryan said Mueller should be able to "do his job."
Mueller, 73, reportedly impaneled a grand jury earlier in August as part of his examination. Read on for a brief rundown on his investigation so far.
Appointment
The Department of Justice announced the appointment of Mueller to oversee the federal investigation into Russia's alleged meddling in the 2016 election on May 17.
Special Counsel Robert Mueller departs after a closed-door meeting with members of the Senate Judiciary Committee about Russian meddling in the election.  (AP Photo/J. Scott Applewhite)
The appointment came after a growing cry – mostly from Democrats – mounted for someone outside the Justice Department to handle the probe. Attorney Gen. Jeff Sessions had already recused himself from the investigation.
TRUMP AND THE RUSSIA INVESTIGATION: WHAT TO KNOW
Mueller led the FBI through the Sept. 11 terrorist attacks and served under presidential administrations of both parties.
He has the authority to prosecute any crimes uncovered during his investigation, and he was given wide authority to investigate whether Trump or his associates colluded with the Kremlin to win the White House.
Mueller allegedly expanded the probe to include investigating Trump for obstruction of justice because he fired FBI Director James Comey earlier in May.
Trump told Fox News the claims that he obstructed justice were "ridiculous" and said Mueller's friendship with Comey was "very bothersome."
Mueller has also reportedly taken over an ongoing investigation into Manafort's financial dealings in Ukraine. The FBI executed a search warrant in August at the Virginia home of Manafort, who – prior to joining Trump's campaign – worked with a Russia-backed Ukrainian president.
Staffing controversy
The Trump administration heavily criticized Mueller's investigation as several of his attorneys on staff donated to Democratic campaigns, including to Trump's 2016 rival, Hillary Clinton.
"They clearly wanted the other person to win. Now, whether that prejudices them in one way or another remains to be seen, but it is relevant information for people to have," White House counselor Kellyanne Conway told "Fox and Friends" in July.
Grand jury
Mueller kicked off August by reportedly impaneling a grand jury to investigate Russia's influence – an indication that the probe is entering a new phase.
A grand jury gives prosecutors the ability to subpoena documents and gather on-the-record witness testimonies. Indictments can also be sought.
SENATORS INTRODUCE BILL TO PROTECT MUELLER FROM FIRING
Grand juries are common vehicles to gather evidence, though they do not suggest any criminal charges are near or will necessarily be sought.
Trump's comments
Trump has dismissed the allegations of collusion with Russia as a "fake story that is demeaning to all of us and most of all demeaning to our country and demeaning to our Constitution."
"I just hope the final determination is a truly honest one…"

– President Donald Trump
"I just hope the final determination is a truly honest one, which is what the millions of people who gave us our big win in November deserve and what all Americans who want a better future want and deserve," Trump said at a rally in West Virginia earlier this year.
The president also warned Mueller to stay within certain boundaries as he investigates.
But Conway told Fox News that the Trump administration is not "discussing" firing Mueller and will cooperate with the investigation.
She contended that while the Russia probe is a "witch hunt" and "fake," Trump "has not even discussed" nor is "discussing" sacking Mueller.
Trump and Mueller have also sent messages "back and forth," according to Trump's outside counsel. A spokesman for Mueller told Fox News that the messages have been "very professional."
The Associated Press contributed to this report. 
Kaitlyn Schallhorn is a Reporter for Fox News. Follow her on Twitter @K_Schallhorn.
Mueller's Russia investigation: What to know | Fox News – Fox News
---
9:01 AM 10/25/2017 Russia Investigations Links | The World News and Times
---
Trump's consistent refrain: There is not now and never will be proof of Russian collusion – MyAJC
| | |
| --- | --- |
| | mikenova shared this story from emails investigation is Russia-Trump set-up – Google News. |
---
The Brooklyn Bridge bklyn-ny.net
---
James Bond 007 Skyfall by Adele [OFFICIAL FULL MUSIC VIDEO]
---
Signed in as mikenova
Share this story on NewsBlur
Shared stories are on their way…
Россия подарила Филиппинам партию оружия | Власть | Новости
---
Россия передала Филиппинам крупную партию оружия и военной техники. Среди прочего, Филиппины получили пять тысяч автоматов Калашникова, миллион патронов и 20 армейских грузовиков, сообщает Manila Bulletin.
Оружие Россия, судя по всему, передала Маниле бесплатно. Издание охарактеризовало это, как "пожертвование".
Церемония передачи, где присутствовал президент Филиппин Родриго Дутерте, состоялась порту Манилы на борту одного из российских кораблей. Как сообщается на сайте Минобороны РФ, это был большой противолодочный корабль "Адмирал Пантелеев" Тихоокеанского флота России.
Также на мероприятии присутствовали министр обороны России Сергей Шойгу и его филиппинский коллега Делфин Лоренцана.
10.25.17 They went to Syria to fight Islamic State. Now two Americans find themselves in limbo LA Times | The Brooklyn Bridge
---
10.25.17
Video News in Russian – 6:32 AM 10/25/2017
Вирус Bad Rabbit атаковал российские СМИ / Новости – YouTube
---
The Saudi Crown Prince Says the Kingdom Will Soon Return to a Moderate Islam
---
Saudi Arabia has been "not normal" for the past 30 years and will soon return to a "moderate Islam" according to recent comments from the kingdom's Crown Prince, who attributed the country's adherence to hardline Islam to fallout from the Iranian revolution.
"What happened in the last 30 years is not Saudi Arabia. What happened in the region in the last 30 years is not the Middle East," Mohammed bin Salman, the heir to the Saudi throne told the Guardian Tuesday.
"After the Iranian revolution in 1979, people wanted to copy this model in different countries, one of them is Saudi Arabia. We didn't know how to deal with it. And the problem spread all over the world. Now is the time to get rid of it," he continued.
Read more: What Saudi Women Need More Than a Driver's License
The crown prince's comments are the latest indication of a softening in the values of Saudi Arabia, which gloms to a fiercely puritanical strain of Sunni Islam. They also coincide with his attempts to consolidate his authority and break with hardline clerics that have long held sway over the House of Saud. Last month, the Kingdom lifted a ban on women driving cars, according to local media. Authorities have also loosened guardianship rules that restrict women's access to jobs, higher education and medical procedures
At an earlier investment summit in Riyadh, Salman remarked on the country's young population. "We won't waste 30 years of our life combating extremist thoughts, we will destroy them now and immediately," he said, according to the Guardian.
Read more: Rex Tillerson Seeks Help From Arab Nations in the U.S. Effort to Isolate Iran
At the summit, Saudi touted proposals for a $500bn independent economic zone, an ambitious attempt to diversify the kingdom's almost entirely oil dependent economy. The new economic zone will spill over Saudi's borders into neighboring Jordan and Egypt and, according to the Guardian, include a tourist hub in which men and women will be allowed to mingle freely.
10:07 AM 10/24/2017 This is the attempt to control and manage the electoral system, not just to undermine…
| | |
| --- | --- |
| | mikenova shared this story from Public RSS-Feed of Mike Nova. Created with the PIXELMECHANICS 'GPlusRSS-Webtool' at http://gplusrss.com. |
---
10:07 AM 10/24/2017 This is the attempt to control and manage the electoral system, not just to undermine trust in it. M.N. 10.24.17
NATO report casts doubt on ability to defend against Russian attack … – Deutsche Welle
---
Tiny Montana firm hired to rebuild Puerto Rico's power grid
---
Weeks after Hurricane Maria hit Puerto Rico, nearly 80 percent of the island remains without power.
Typically, power companies rely on mutual aid agreements with other utilities following natural disasters  both Texas and Florida recently activated those agreements to help residents get power back.
But the Puerto Rico Electric Power Authority, or PREPA, has opted out and hired a tiny contracting firm from Montana instead.
PREPA couldn't afford it, says David Ferris, a reporter for the industry publication E&E News. The agency is $9 billion in debt, and mutual aid agreements are expensive to repay.
Whitefish Energy saw an opening and signed a $300 million contract with PREPA last week.
There were other companies offering to do the work, says Ferris "but because of PREPAs perilous financial situation, those other parties wouldnt necessarily just jump in. But Whitefish was ready to.
Whitefish is responsible for rebuilding a major spine of the transmission system that will connect the southern part of the island, where most of the power plants are, to the northern part of the island where the capital is and where most of the power users are, says Ferris.
PREPAs decision to hire Whitefish Energy is unusual, and drawing some scrutiny. The for-profit company had just two full-time employees when Hurricane Maria made landfall, and is based in US Interior Secretary Ryan Zinkes hometown in Montana.
You have a small, untested power company going in to help a desperate, bankrupt utility, says Ferris. We simply don't know what that's going to look like or how long it's going to take.
To hear more from David Ferris about Whitefish Energy listen above.
Download audio: https://www.podtrac.com/pts/redirect.mp3/cdn.pri.org/sites/default/files/segment-audio/10242017_01.mp3
'Trump Is Treason!': Protester Throws Russian Flags At President
---
A liberal activist infiltrated a press area outside a Senate GOP lunch.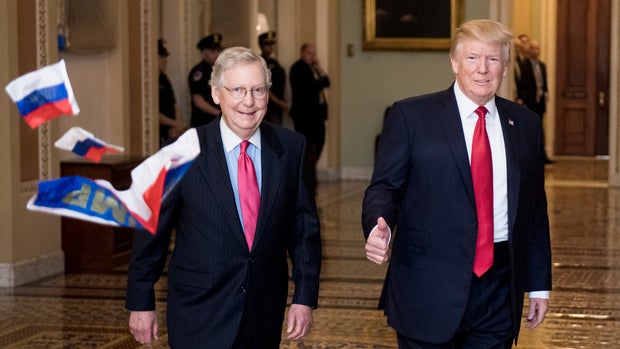 Launch probes! Congressional GOPers try desperately to take focus off Trump – CNN
---
GOP opens investigation into Obama Justice Department – The Mercury News
---
Putin at Valdai: A Deep Dive Into Long-Standing Grievances – EurasiaNet
---
Today's Headlines and Commentary
---
The Trump administration will allow refugee admissions from all countries to resume and will put in place stricter screening measures, the Wall Street Journal reported. The refugee program was put on hold this summer as part of the administrations travel ban for a 120-day period that expires on Tuesday. The increased vetting measures will include more extensive collection of biographical data and investigation into applicants social media history.
Senator John McCain called for a new congressional authorization for the use of military force for U.S. military operations overseas, Politico reported. McCain, the chairman of the Senate Armed Forces Committee, said the recent deaths of four U.S. soldiers in Niger called into question the extent of U.S. military operations around the globe. Secretary of State Rex Tillerson and Secretary of Defense James Mattis will testify at a Senate hearing on the authorization for the use of military force next week.
Pakistans prime minister pledged to support U.S. counterrorism efforts during a meeting on Tuesday with Secretary of State Rex Tillerson, Reuters reported. Prime Minister Shahid Khaqan Abbasi affirmed Pakistans continued support for the war against terror and said the country had produced results in efforts against Al Qaeda and the Taliban.
The State Department warned Myanmars military leadership that it held them accountable for atrocities committed against the Rohingya ethnic minority, Reuters reported. A spokesperson for the State Department said on Monday it is considering targeted sanctions measures against officials that have facilitated human rights abuses. More than 600,000 Rohingya have left Myanmar as refugees since the crisis began.
Michael Cohen, a former attorney for President Trump, will speak with congressional investigators from the House and Senate intelligence committees this week, NBC News reported. In August, NPR reported that Cohen contacted Russian government officials to get assistance with a permit for a Trump real estate deal in Moscow.
The U.S.-led coalition in Syria denied striking Syrian-government held positions in Deir al-Zour city, according to Reuters reported.  Syrian state television accused the coalition of carrying out airstrikes that killed at least 14 people on Monday. A coalition spokesperson said its air forces had not conducted any strikes in the Syrian-government held parts of the city.
The Department of Justice will allow tech companies to alert their customers to law enforcement requests for their personal data, Ars Technica reported. Deputy Attorney General Rod Rosenstein said in a memo last week that the department would drop its practice of requiring gag orders for companies that surrender customer data to legal authorities. In response, Microsoft dropped a lawsuit against the Department of Justice challenging the gag orders.
British lawmakers asked Facebook for information about Russia-linked advertisements on its platform during the Brexit vote and 2017 parliamentary elections, Reuters reported on Tuesday.  Damian Collins, the head of a parliamentary inquiry into false and misleading news stories, made the request as part of an effort to understand the impact of foreign actors on social media.
A military judge ordered the civilian defense team for Rahim al-Nashiri back to the military court after the lawyers quit last week over ethical conflicts, the Miami Herald reported. Judge Vance Spath contradicted militarys chief defense counsel Gen. John Bakers order to dismiss the civilian members of al-Nashiris defense team. Baker had dismissed the lawyers after they brought up an ethical conflict of interest over a classified matter. Judge Spath ordered the attorneys to appear at the next court hearing in two weeks.
Iraqi militias launched an offensive against a Kurdish-held oil pipeline hub near the Turkish border on Tuesday, Reuters reported. Kurdish forces pledged to defend the area, which is a conduit for oil exports that provide vital revenue to the Kurdish Regional Government.
A bipartisan group of senators will introduce a bill that would require the FBI to obtain warrants to search data collected under the authority of Section 702 of the Foreign Intelligence Surveillance Act, Reuters reported. Senators Ron Wyden and Rand Paul said their bill to reauthorize the intelligence communitys surveillance authorities under Section 702 would include more transparency and oversight mechanisms. It would allow individuals to more easily challenge surveillance in court and would expand the role of the Privacy and Civil Liberties Oversight Board.
ICYMI: Yesterday on Lawfare
Matthew Kahn analyzed the legislative history behind the 25th Amendment and its applications in cases of presidential disability.
Josh Blackman argued that the Hawaii District Courts injunction against the most recent travel ban order does pass the rational basis test.
Vanessa Sauter posted a letter from a group of former national security officials urging the reauthorization of FISA Section 702 surveillance authorities.
Sabrina McCubbin summarized pre-trial motions in Smith v. Trump, a case challenging the application of the 2001 AUMF to the Islamic State.
Rick Ledgett argued that the only way for Kasperksy to regain users trust would be for it allow independent monitoring of all its anti-virus activities.
Matthew Kahn flagged a draft Section 702 reauthorization bill from the Senate intelligence committee.
Garrett Hinck described a strange sequence of events related to exiled Chinese billionaire Guo Wengui and the Trump administration.
Email the Roundup Team noteworthy law and security-related articles to include, and follow us on Twitter and Facebook for additional commentary on these issues. Sign up to receive Lawfare in your inbox. Visit ourEvents Calendar to learn about upcoming national security events, and check out relevant job openings on ourJob Board.
Protester Throws Russian Flags At Trump As He Arrives For Capitol Hill Tax Lunch – NPR
---
Cambridge Analytica, Trump, and Brexit – Google Search
---
Cambridge Analytica and Brexit – Google Search
---