The Russia – West E-Curtain – GS
The Russians want to build the new E-Curtain, prophylactically, to protect themselves from the evil Western influences. At least a part, if not all the Trump-Russia show-off operation might be an FSB counterintelligence endeavor, very aggressive, as is their tradition historically, and also outgrowing into the frank intelligence show-off "special operation". And all this to demonstrate the dangers of the single Internet and to divide it into two separate informational bastions: pro-Russian and the rest. Very isolationist, narrow-minded, and very Russian in its mentality. These are the goals and purposes Of this new E-Curtain, which is impossible to impose unilaterally but only by mutual consent. Will never happen. M.N. – 10.25.17
See also Mr. Hoffman on this subject: 

 Former CIA station chief warns of 'authoritarian internet'
A common link in
A sharp contrast to the opinion polls, pre-election, and pre-referendum.
Questions:
Did they target their "key (attuned, worked on) voters" in the key areas, according to the polls information? 
Did they manipulate the opinion polls or their samples? 
Was the interference in Brexit vote a dress rehearsal for Trump vote?  
M.N. – 10.25.17 
Links to Posts and Articles
Read the whole story
· · · · ·
The Russia – West E-Curtain – GS
The Russians want to build the new E-Curtain, prophylactically, to protect themselves from the evil Western influences. At least a part, if not all the Trump-Russia show-off operation might be an FSB counterintelligence endeavor, very aggressive, as is their tradition historically, and also outgrowing into the frank intelligence show-off "special operation". And all this to demonstrate the dangers of the single Internet and to divide it into two separate informational bastions: pro-Russian and the rest. Very isolationist, narrow-minded, and very Russian in its mentality. These are the goals and purposes Of this new E-Curtain, which is impossible to impose unilaterally but only by mutual consent. Will never happen. M.N. – 10.25.17
See also Mr. Hoffman on this subject: 

 Former CIA station chief warns of 'authoritarian internet'
Read the whole story
· · · ·
As the probe into Russia's influence in the 2016 presidential election continues, Special Counsel Robert Mueller's probe has expanded to …
As the probe into Russia's influence in the 2016 presidential election continues, Special Counsel Robert Mueller's probe has expanded to …
… Trump's reported pledge of $430,000 to help White House and campaign staffers pay for legal costs associated with the Russia investigation …
The Independent
–
18 hours ago
… email probe as 'massive diversion' from Trump–Russia investigation … The FBI carried out an investigation into Ms Clinton's private use of an …
Next Page of Stories
Loading…
Page 2
New York Times
–
6 hours ago
U.K. Lawmakers Ask Facebook About Russian Influence in Brexit Vote … Suspecting Russian Meddling in 'Brexit' Vote, Lawmaker Seeks …
Sputnik International
–
15 minutes ago
… has commented on the UK initiative to investigate Russia's alleged role in using social media to influence the Brexit vote in an interview with …
Britain asks Facebook for information about suspected Russian influence in Brexit … The Facebook logo is seen in front of a Russian flag in this photo … on Russian-linked ads used during the Brexit voteand June's general …
A common link in
A sharp contrast to the opinion polls, pre-election, and pre-referendum.
Questions:
Did they target their "key (attuned, worked on) voters" in the key areas, according to the polls information? 
Did they manipulate the opinion polls or their samples? 
Was the interference in Brexit vote a dress rehearsal for Trump vote?  
M.N. – 10.25.17 
Next Page of Stories
Loading…
Page 3
Next Page of Stories
Loading…
Page 4
Signed in as mikenova
Share this story on NewsBlur
Shared stories are on their way…
Россия передала Филиппинам крупную партию оружия и военной техники. Среди прочего, Филиппины получили пять тысяч автоматов Калашникова, миллион патронов и 20 армейских грузовиков, сообщает Manila Bulletin.
Оружие Россия, судя по всему, передала Маниле бесплатно. Издание охарактеризовало это, как "пожертвование".
Церемония передачи, где присутствовал президент Филиппин Родриго Дутерте, состоялась порту Манилы на борту одного из российских кораблей. Как сообщается на сайте Минобороны РФ, это был большой противолодочный корабль "Адмирал Пантелеев" Тихоокеанского флота России.
Также на мероприятии присутствовали министр обороны России Сергей Шойгу и его филиппинский коллега Делфин Лоренцана.
Next Page of Stories
Loading…
Page 5
Saudi Arabia has been "not normal" for the past 30 years and will soon return to a "moderate Islam" according to recent comments from the kingdom's Crown Prince, who attributed the country's adherence to hardline Islam to fallout from the Iranian revolution.
"What happened in the last 30 years is not Saudi Arabia. What happened in the region in the last 30 years is not the Middle East," Mohammed bin Salman, the heir to the Saudi throne told the Guardian Tuesday.
"After the Iranian revolution in 1979, people wanted to copy this model in different countries, one of them is Saudi Arabia. We didn't know how to deal with it. And the problem spread all over the world. Now is the time to get rid of it," he continued.
Read more: What Saudi Women Need More Than a Driver's License
The crown prince's comments are the latest indication of a softening in the values of Saudi Arabia, which gloms to a fiercely puritanical strain of Sunni Islam. They also coincide with his attempts to consolidate his authority and break with hardline clerics that have long held sway over the House of Saud. Last month, the Kingdom lifted a ban on women driving cars, according to local media. Authorities have also loosened guardianship rules that restrict women's access to jobs, higher education and medical procedures
At an earlier investment summit in Riyadh, Salman remarked on the country's young population. "We won't waste 30 years of our life combating extremist thoughts, we will destroy them now and immediately," he said, according to the Guardian.
Read more: Rex Tillerson Seeks Help From Arab Nations in the U.S. Effort to Isolate Iran
At the summit, Saudi touted proposals for a $500bn independent economic zone, an ambitious attempt to diversify the kingdom's almost entirely oil dependent economy. The new economic zone will spill over Saudi's borders into neighboring Jordan and Egypt and, according to the Guardian, include a tourist hub in which men and women will be allowed to mingle freely.
Read the whole story
· · ·
10:07 AM 10/24/2017 – This is the attempt to control and manage the electoral system, not just to undermine trust in it. – M.N. – 10.24.17
Weeks after Hurricane Maria hit Puerto Rico, nearly 80 percent of the island remains without power.
Typically, power companies rely on "mutual aid" agreements with other utilities following natural disasters — both Texas and Florida recently activated those agreements to help residents get power back.
But the Puerto Rico Electric Power Authority, or PREPA, has opted out and hired a tiny contracting firm from Montana instead.
"PREPA couldn't afford it," says David Ferris, a reporter for the industry publication E&E News. The agency is $9 billion in debt, and mutual aid agreements are expensive to repay.
Whitefish Energy saw an opening and signed a $300 million contract with PREPA last week.
"There were other companies offering to do the work," says Ferris "but because of PREPA's perilous financial situation, those other parties wouldn't necessarily just jump in. But Whitefish was ready to."
Whitefish is responsible for rebuilding "a major spine of the transmission system that will connect the southern part of the island, where most of the power plants are, to the northern part of the island where the capital is and where most of the power users are," says Ferris.
PREPA's decision to hire Whitefish Energy is unusual, and drawing some scrutiny. The for-profit company had just two full-time employees when Hurricane Maria made landfall, and is based in US Interior Secretary Ryan Zinke's hometown in Montana.
"You have a small, untested power company going in to help a desperate, bankrupt utility," says Ferris. "We simply don't know what that's going to look like or how long it's going to take."
To hear more from David Ferris about Whitefish Energy listen above.
Download audio: https://www.podtrac.com/pts/redirect.mp3/cdn.pri.org/sites/default/files/segment-audio/10242017_01.mp3
Read the whole story
· · ·
A liberal activist infiltrated a press area outside a Senate GOP lunch.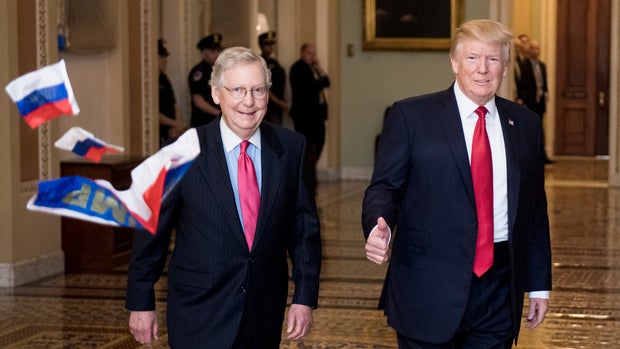 Next Page of Stories
Loading…
Page 6
The Trump administration will allow refugee admissions from all countries to resume and will put in place stricter screening measures, the Wall Street Journal reported. The refugee program was put on hold this summer as part of the administration's travel ban for a 120-day period that expires on Tuesday. The increased vetting measures will include more extensive collection of biographical data and investigation into applicants' social media history.
Senator John McCain called for a new congressional authorization for the use of military force for U.S. military operations overseas, Politico reported. McCain, the chairman of the Senate Armed Forces Committee, said the recent deaths of four U.S. soldiers in Niger called into question the extent of U.S. military operations around the globe. Secretary of State Rex Tillerson and Secretary of Defense James Mattis will testify at a Senate hearing on the authorization for the use of military force next week.
Pakistan's prime minister pledged to support U.S. counterrorism efforts during a meeting on Tuesday with Secretary of State Rex Tillerson, Reuters reported. Prime Minister Shahid Khaqan Abbasi affirmed Pakistan's continued support for "the war against terror" and said the country had "produced results" in efforts against Al Qaeda and the Taliban.
The State Department warned Myanmar's military leadership that it held them accountable for atrocities committed against the Rohingya ethnic minority, Reuters reported. A spokesperson for the State Department said on Monday it is considering targeted sanctions measures against officials that have facilitated human rights abuses. More than 600,000 Rohingya have left Myanmar as refugees since the crisis began.
Michael Cohen, a former attorney for President Trump, will speak with congressional investigators from the House and Senate intelligence committees this week, NBC News reported. In August, NPR reported that Cohen contacted Russian government officials to get assistance with a permit for a Trump real estate deal in Moscow.
The U.S.-led coalition in Syria denied striking Syrian-government held positions in Deir al-Zour city,according to Reuters reported.  Syrian state television accused the coalition of carrying out airstrikes that killed at least 14 people on Monday. A coalition spokesperson said its air forces had not conducted any strikes in the Syrian-government held parts of the city.
The Department of Justice will allow tech companies to alert their customers to law enforcement requests for their personal data, Ars Technica reported. Deputy Attorney General Rod Rosenstein said in a memo last week that the department would drop its practice of requiring gag orders for companies that surrender customer data to legal authorities. In response, Microsoft dropped a lawsuit against the Department of Justice challenging the gag orders.
British lawmakers asked Facebook for information about Russia-linked advertisements on its platform during the Brexit vote and 2017 parliamentary elections, Reuters reported on Tuesday.  Damian Collins, the head of a parliamentary inquiry into false and misleading news stories, made the request as part of an effort to understand the impact of foreign actors on social media.
A military judge ordered the civilian defense team for Rahim al-Nashiri back to the military court after the lawyers quit last week over ethical conflicts, the Miami Herald reported. Judge Vance Spath contradicted military's chief defense counsel Gen. John Baker's order to dismiss the civilian members of al-Nashiri's defense team. Baker had dismissed the lawyers after they brought up an ethical conflict of interest over a classified matter. Judge Spath ordered the attorneys to appear at the next court hearing in two weeks.
Iraqi militias launched an offensive against a Kurdish-held oil pipeline hub near the Turkish border on Tuesday, Reuters reported. Kurdish forces pledged to defend the area, which is a conduit for oil exports that provide vital revenue to the Kurdish Regional Government.
A bipartisan group of senators will introduce a bill that would require the FBI to obtain warrants to search data collected under the authority of Section 702 of the Foreign Intelligence Surveillance Act, Reuters reported. Senators Ron Wyden and Rand Paul said their bill to reauthorize the intelligence community's surveillance authorities under Section 702 would include more transparency and oversight mechanisms. It would allow individuals to more easily challenge surveillance in court and would expand the role of the Privacy and Civil Liberties Oversight Board.
ICYMI: Yesterday on Lawfare
Matthew Kahn analyzed the legislative history behind the 25th Amendment and its applications in cases of presidential disability.
Josh Blackman argued that the Hawaii District Court's injunction against the most recent travel ban order does pass the "rational basis" test.
Vanessa Sauter posted a letter from a group of former national security officials urging the reauthorization of FISA Section 702 surveillance authorities.
Sabrina McCubbin summarized pre-trial motions in Smith v. Trump, a case challenging the application of the 2001 AUMF to the Islamic State.
Rick Ledgett argued that the only way for Kasperksy to regain users' trust would be for it allow independent monitoring of all its anti-virus activities.
Matthew Kahn flagged a draft Section 702 reauthorization bill from the Senate intelligence committee.
Garrett Hinck described a strange sequence of events related to exiled Chinese billionaire Guo Wengui and the Trump administration.
Email the Roundup Team noteworthy law and security-related articles to include, and follow us on Twitter and Facebook for additional commentary on these issues. Sign up to receive Lawfare in your inbox. Visit our Events Calendar to learn about upcoming national security events, and check out relevant job openings on our Job Board.
Read the whole story
· · · ·
Next Page of Stories
Loading…
Page 7
Next Page of Stories
Loading…
Page 8
Next Page of Stories
Loading…
Page 9
Russia is meddling in the U.S. presidential election. From the email hack of the Democratic National Convention in July to the cyberattacks on Hillary Clinton's campaign and recent reports of hacks at The New York Times and other media organizations, evidence is mounting that Moscow has launched a sophisticated effort to interfere with and disrupt the November elections.
But not for the reasons you might think. At first glance, it looks like Russia favors Donald Trump and wants to undermine Clinton. And why not? Trump is certainly the pro-Kremlin candidate. He has nice things to say about Russian strongman Vladimir Putin, and even said he would be "looking into" recognizing Crimea as part of Russia. It would be easy to conclude, as some commentators have, that Putin wants to see Trump in the White House.
However, the truth isn't quite that simple. As tempting as it is to see Russia as a partisan player on Trump's side, the Kremlin's goal isn't to see a particular candidate win. The goal is much more insidious: to undermine American confidence in our political system. That is, the Kremlin's real target is liberal democracy itself.
Whether Trump realizes it or not, he is nothing to Putin but a useful idiot in this larger effort.
Russian Cyberattacks Follow A Certain Ruthless Logic
To understand Russia's long game, consider its methods. On Monday, Yahoo News reported the FBI discovered evidence that foreign hackers penetrated two state election databases, in Arizona and Illinois. The hacks prompted the FBI's Cyber Division to issue a "flash" alert to state election officials across the country, warning them to enhance the security of their computer systems. Federal officials believe hackers managed to download the personal data of some 200,000 Illinois voters and introduce malicious software into Arizona's voter registration system.
As with other high-profile cyberattacks this summer, this one shows signs of Russian state-sponsorship. According to Yahoo News, the FBI alert included eight IP addresses that were the source of the two attacks, and one of those addresses has surfaced before in Russian criminal underground hacker forums.
Just like the DNC and Clinton hacks, official sources confirmed this latest hack was authentic. Whatever emails or documents the Russians release through Wikileaks or other channels, everyone will know the leaked information is legitimate, not fabricated. The next logical step for Russians, having established the veracity of the information they leak, will be to introduce false and misleading information.
Disinformation Is A Weapon Of War
Injecting disinformation into the news cycle is a well-established tactic of Russian influence operations, hearkening back to Cold War programs the Soviets called "active measures," in which secret agents would plant false news stories in the Western press. Disinformation of this kind has long been an important aspect of Russian military doctrine, the idea being that it's easier, and cheaper, to persuade Russia's enemies than to kill them. The difference now is that technology makes it possible to coordinate false information and flood news cycles and social media networks in ways that were impossible during the Cold War.
On Sunday, The New York Times published a detailed account of Russia's sprawling and highly sophisticated disinformation campaigns underway across the globe. During recent public debates in Sweden about entering a military partnership with NATO, for example, social media was inundated with false information about what the partnership would entail, including wild claims that NATO would stockpile secret nuclear weapons on Swedish soil and it would have the authority to attack Russia from Sweden without the government's approval.
None of it was true, but the sheer volume of social media echoing these claims was enough for them to seep into the mainstream news cycle. According to the Times report, when Sweden Defense Minister Peter Hultqvist traveled the country to promote the NATO pact, he repeatedly faced questions about the false claims.
Something similar happened during the recent coup attempt in Turkey, with a flood of Twitter posts claiming the U.S. airbase at Incirlik had been surrounded by thousands of armed police. The story didn't gain the same traction as the anti-NATO narrative did in Sweden, but it demonstrates the extent to which Moscow is willing to employ Twitter trolls in coordination with official news channels like <a href="http://RT.com" rel="nofollow">RT.com</a> and Sputnik, the two main state-controlled media outlets that publish in English, to advance false storylines and distorted information.
Soviet 'Active Measures' Are Back
Here in the United States, something similar has been underway for months, with suspiciously coordinated social media trolls shilling for Trump on Twitter, amplifying his anti-NATO and anti-Ukraine pronouncements. It took the mainstream media a while to catch on to this—conservative writers like Erick Erickson were writing about pro-Trump Russian troll farms back in April—but now it's undeniable that Moscow is working on multiple fronts to disrupt our elections and give credence to Trump's repeated claims that the election, like the entire politic system, is "rigged."
The Russians have chosen their moment well. American confidence in public institutions is languishing at historic lows, while the vast majority of Americans report anger and frustration at the federal government. That lack of trust has helped propel Trump, a political outsider, to the top of the Republican Party ticket. It fueled the insurgent campaign of Bernie Sanders. Now Moscow is exploiting it in the service of a grand strategy, with far greater implications than a single U.S. presidential election.
After all, if Putin can convince Americans that liberal democracy is nothing but a sham, he will accomplish what no leader of the Soviet Union ever could. Decades after we thought it was over, Russia will have finally won the Cold War.
Read the whole story
· · · ·
Russia's propaganda campaign targeting Americans was hosted, at least in part, on American soil.
A company owned by a man on Staten Island, New York, provided internet infrastructure services to DoNotShoot.Us, a Kremlin propaganda site that pretended to be a voice for victims of police shootings, a Daily Beast investigation has found.
Every website needs to be "hosted"—given an Internet Protocol address and space on a physical computer—in order to be publicly viewed. DoNotShoot.Us is a website run out of the Kremlin-backed "Russian troll farm," according to two sources familiar with the website, both of whom independently identified it to The Daily Beast as a Russian propaganda account. It was hosted on a server with the IP address 107.181.161.172.
That IP address was owned by Greenfloid LLC, a company registered to New Yorker Sergey Kashyrin and two others. Other Russian propaganda sites, like BlackMattersUs.com, were also hosted on servers with IP addresses owned by Greenfloid. The company's ties to Russian propaganda sites were first reported by ThinkProgress.
The web services company owns under 250 IP addresses, some of which resolve to Russian propaganda sites and other fake news operations. Others are sites that could not be hosted at other providers, like "xxxrape.net." There's also a Russian trinket site called "soviet-power.com." (The IP address that pointed to DoNotShoot.Us now resolves to a botnet and phishing operation, and is currently owned by Total Server Solutions LLC.)
The use of a tiny, no-questions-asked hosting company run by a man living in New York shows the Kremlin-backed troll farm's brazen use of Americans and American companies to conduct its disinformation campaign.
Over the past two months, Russia's efforts to integrate Americans and U.S. communities into its vast propaganda campaigns has become clearer, as social media companies began shuttering accounts originating from Russia's Internet Research Agency, or troll farm.
In September, The Daily Beast discovered that one of the troll accounts, "Being Patriotic," organized 17 in-person rallies for Donald Trump on one day in Florida alone. Last week, BuzzFeed reported that unwitting Americans were used to amplify Russian social media accounts pretending to be a Black Lives Matter offshoot.
Now, it appears Russia's influence campaign attempted to host that campaign within the United States.
DoNotShoot.Us purported to be a collection of stories about "outrageous police misconducts [sic], really valuable ones, but underrepresented by mass media" in an effort to to "improve the situation in the U.S."
The site served as a de facto database of shootings by police across the U.S, with each entry accompanied by anti-police invective. (An entry for the assault of a man named Ross Flynn lists the "reported reason" for the incident as "resisting and evading arrest"—and the "real reason" as "cops don't treat detained people as humans.")
The site also features a list of petitions (No. 2 on the most popular list: "Stop Police Violence Against Pit Bulls, Justice For Mr. Brown") and an archive of graphic videos that have since been pulled from the web.
Thank You!
You are now subscribed to the Daily Digest and Cheat Sheet. We will not share your email with anyone for any reason.
Greenfloid also hosted BlackMattersUs.com and other sites designed to impersonate African-American activists that have been identified as Russian troll accounts by independent Russian news agency RBC. BlackMattersUs.com claimed it was a "nonprofit news outlet" for the "African-American community in America," but often used its page to smear Hillary Clinton and push Kremlin talking points.
While hosted in America, content for the sites was generated by paid staffers in St. Petersburg.
Former FBI agent Clint Watts, an expert on Russia's propaganda campaign, said the Kremlin's use of an American host is true to form.
"All of these placements are designed to create anonymity around the source and make it look authentic—like there's real, grassroots support around the world for these interests," Watts told The Daily Beast.
"You don't want these to trace back to Russia, so you pick a believable community closest to your target. It's not necessarily that they're directed Russian agents, but they can go through Russian communities—witting or unwitting—outside of Russia."
Quiet Neighborhood, Nasty Material
Sergey Kashyrin now lives in a quiet Staten Island neighborhood of bungalows, semi-detached homes, and cracked sidewalks just a few blocks from Midland beach. It is still reeling from the devastation of Hurricane Sandy. When a reporter visited Monday morning, Kashyrin's street was blocked off by road work signs and mud-caked tire tracks traced the roads. On nearly every block, construction crews were still at work repairing boarded up homes amid tall marsh grasses towering in overgrown yards.
In business filings, Kashyrin and the two other registrants of Greenfloid LLC all gave their address as a well-kept beige semi-detached house in the middle of a quiet block. It has a lush and green backyard, with a greenhouse and coop, and tall plants that peek out of the front-facing windows. The house, if not the block, seems to have avoided much of the devastation; across the street are wild lots where other homes once stood. Kashyrin wasn't home, and a woman suggested a reporter call him.
Reached by phone, Kashyrin gave a string of answers, many of them contradictory. He initially said he didn't want to talk about Greenfloid LLC. Then he said he was available to talk, and said that Greenfloid is part of the fight against Russian propaganda—nevermind the fact that his company hosted it.
Kashyrin next pivoted to say his service didn't consciously provide hosting to the Russian trolls—despite evidence to the contrary—but instead unknowingly rented them virtual servers that they used to funnel traffic to a different hosting company in Russia. He declined to name the company. "We were not hosting those websites. The guys bought virtual servers, and they put the proxy," Kashyrin said. "It just redirected to the original site in Russia."
Such an arrangement would have the same effect as hosting, while slowing the troll websites and consuming needless bandwidth. But it's conceivable the Russians used such a scheme to make it easier to quickly relocate the sites without having to copy their contents. It's largely a distinction without a difference—Kashyrin's firm was still serving the Russian propaganda through its servers and internet, even if the images and text were ultimately held in Russia as Kashyrin claims.
When asked why the company hosts so many fake news sites, often angled toward Russian interests, Kashyrin said that there are likely simply many customers "from there who are doing that."
'It's Funny, Having Russian Propaganda'
One thing that's clear, however: Greenfloid is more than just a stand-alone firm. Greenfloid is listed on the site of its Kharkiv, Ukraine-based parent company ITL as its North American division, and a number listed for Greenfloid dials into a Russian-language menu for ITL.
This isn't the first time ITL has been called out over allegations its servers were used to host sites run by the Russian troll factory. It also hosted the website Whoiswhos.me, which revealed the identities and personal information of Russian opposition bloggers.
A number of Russian bloggers and activists had their names, photos, and personal information revealed on WhoisWhos. At least seven of them were physically assaulted, and some had their cars burned, the Russian news site Fontanka said in June 2016.
ITL was alerted and the site was taken offline, Fontanka reported. (Kashyrin said it was around the same time that Greenfloid banned proxies, disassociating itself from the two Russian sites. He declined to provide a link to the proxy ban policy because "it's too late today.") ITL also took down a separatenews site, registered at the same time as WhoisWhos, that reported on the Russian-backed war in Ukraine from a pro-Russian perspective. Fontanka said its investigation strongly suggested the sites were linked to the Russian troll factory because of the similarities, in style and content, to sites run by the group.
Russian hackers are also apparently happy with ITL's service. On one popular Russian crime forum, a user wrote that ITL's support team "does not ask anything," and that users can pay in anonymous Bitcoin currency.
All the companies link back to Dmitry Deineka, a Ukrainian national who lives in the country's second-largest city, Kharkiv.
"I'm sorry, but we don't give out information about our clients, that violates the NDA and company rules," Deineka wrote to The Daily Beast by email. He denied that a "Russian troll factory" was among their clients.
Kashyrin added that intellectuals in Kharkiv, especially the IT crowd, dislike Putin and would not support his agenda.
"We never support Russian propaganda, because the headquarters of our company is in Ukraine," he added.
But the explanation is hardly iron-clad. Residents of Kharkiv are predominantly Russian-speaking, and the city has been symbolically important to the Russian-backed separatist movement.
So Kashyrin pivoted again.
"It's fun[ny], having Russian propaganda using Ukrainian company," Kashyrin said, despite his claim moments earlier that he would never host Moscow's agitprop. "It might be the reason these guys choose our company as the provider."
ITL, an acronym that has different meanings including Integrated Technology Laboratory, is also registered as an LLC in Las Vegas, Nevada.
In emails to The Daily Beast, Deineka compared his company's services to those of Amazon, "only much smaller," and said he couldn't confirm whether it was used to host BlackMattersUS or DoNotShoot.Us even if he wanted to.
Deineka reiterated that he does not have the troll factory or its aliases listed among his clients. "If that name was in a client's profile, we would have immediately denied him services," Deineka said.
"Let me try to explain the technical question," Deineka wrote. "We are not hosting providers who put sites up. We provide VDS (virtual dedicated server) services and can't check, without interrupting our client's server operations, what the user does.
"The user can host sites, can use the VDS as a proxy-server, and so on," Deineka added. "We're like Amazon WS (Web Services), only significantly smaller. We rent servers, we don't host sites."
Amazon Web Services does, in fact, allow customers to host websites, and ITL's website says it offers "convenient and fast hosting for sites."
'Now I've Got My Face Plastered on the Site!'
BlackMattersUs.com, which was hosted by Greenfloid, was revealed to be a Russian troll site earlier this month by the independent Russian news organization RBC. It sometimes posted content supplied by social media followers like Porsche Kelly, a poet who emailed them her poem after following BlackMattersUS on Instagram.
She was surprised when told by a reporter last week that the site was operated by Russian trolls. An editor had promptly responded to her email, saying the site was always happy to share "thoughtful and powerful messages."
"And now I've got my face plastered on the site!" Kelly said.
Facebook, Linkedin, and Twitter have suspended social media pages related to the site.
But Greenfloid's business continues. The most popular sites hosted by the companies are two MP3 downloading destinations and Bible.ru, which is a link to annotated bibles in Russian.
—with additional reporting by Joseph Cox
Read the whole story
· · · · · · · ·