The "Invisible" Kremlin Hand pulls the strings: force Sessions to resign, fire Mueller, suppress the investigation. "Nice job", Kislyak! This is his last (?) "goodbye present".
The "Kremlin Playbook" plan apparently is to turn America into the Russian vassal, into the Putinist-Trumpist entity with the tight micromanagement directly from the Putin's office. 
"With Sessions out of the way, Trump can try to appoint a new Attorney General who wouldn't have to recuse himself from the Russia investigation, meaning that the new Attorney General could theoretically fire Special Counsel Robert Mueller. But this isn't going to play out like Trump might hope."
"Donald Trump − after extended personal contact with Vladimir Putin and the complete surrender to Russian interests in Syria − acts precisely like he has been bought and sold by a strategic rival…
Russia has made the political affairs of the United States very much its business. With almost no serious American response. Russian interference in America's self-defining civic ritual has been almost costless…
The problem is the damage to American interests done in the meantime. 
It now seems that the Russians − by meddling in a presidential election and by downplaying such aggression − has achieved an intelligence coup beyond the dreams of the Soviet era. The result is an America strategically and morally disarmed."
The Putin's style of acquiring and holding to power which he demonstrated so adeptly within his own country and political system, is now exported to the U.S. and the rest of the "free world". This style is to play on and to exploit the opponents' own inner inherent contradictions and vulnerabilities, as in his dealings with the Russian Opposition, and generally, with anyone or anything that opposes him. The non-admission of Georgia to NATO due to the "ongoing ethnic conflict" and the lack of stability is another example.
Another, more recent and closer to the native ground examples of the same hypocritical style are firing Comey on the pretenses of the "mishandling" of Clinton's emails investigation and hypothetical firing or resignation of Sessions for conveniently "not recalling" the meetings with Kislyak, which were just as conveniently and "timely" reminded to him by Kislyak himself. 
This style is simple, shrewd, sophisticated, and efficient. 
The "First American Black President" (the foreign interference in his election was alluded to in the recent Senate hearings and claimed in various media websites, but was not really fully explored, as if it were some mysterious and shameful venereal disease), paved the way for the "First American Mobster President". "Nice job" all around. 
"At the Aspen Security Forum in Colorado, Pompeo was asked whether he supports the findings of U.S. intelligence agencies that Russia interfered in the 2016 election.
"Of course," he replied. "And the one before that, and the one before that."
Later in the question-and-answer session with New York Times columnist Bret Stephens, Pompeo was asked whether he was downplaying Russia's meddling in 2016 by also mentioning the Kremlin's behavior in previous years.
"I am confident that the Russians meddled in this election, as is the entire intelligence community," Pompeo said, appearing agitated at the skepticism towards his previous answer. "I hope I didn't stop at 2008 [for when he says Russian began interfering in U.S. elections]. You can go back to the 70s. My point was simply this: This threat is real. The U.S. government, including the Central Intelligence Agency, has to figure out a way to fight back against it and defeat it."
Who and what are the culprits to point the finger at? The Russians, the Mob, the Germans, the Israelis, the Chinese, the Persian cats, any other cats, the excessive role of money in American politics, the fall in the standards of the moral-political values? All of these together, in various degrees, mixtures, combinations, and affiliations, imaginable and unimaginable? Can you picture this situation now? Is this a result of the irrational, sick, determined, aggressive, evil, malevolent, vicious hatred, envy, and the fear of America? The "soft power" concepts and the "understanding" diplomacy did not help much to diffuse these sentiments, despite the long, determined, and the sincere well-wishing efforts. This well intentioned, "eyes wide shut" blindness also paved the way to the present hell in which we find ourselves landed. 
Do perform and publish the historical-political study of the foreign interference into the American political processes and elections from the beginning of the past century: in-depth, objective, detailed and well researched. There are definitely the lessons to learn from all of this. The present episode is really unprecedented and "unpresidented", it can be explained in part by the Putin's and his criminal Mafiosi minions' extraordinary chutzpah and cunning, but these endeavors were not built on the empty ground, they have "solid and venerable" KGB foundation going back decades.
The Russians, just like the Germans and the others, love, preserve and study with diligence the historical traditions and the skills of their spycraft, especially if they worked, and worked well. As many people did say, it does encourage them to continue their pursuits unabated, especially if there is no resistance to them; just the bewilderment and confusion. 
"Congrats", bros. And what are you going to do about it now? 
The self-assuring claims, including my own, that "it will never work" in America are not enough. 
Something decisive, smart, and fast enough (barring the political assassinations, God forbid) has to be done until it is really too late. This is a very real crisis of enormous, hard to imagine proportions, that weakens America and her standing in the world. "A real threat", as Mr. Pompeo said. The times of the pretentious innocence and the willful blindness have to be replaced by the times of the most vigorous investigations, educated and the well-founded insights, and actions. 
The latest rumors from Russia are that Agalarov&Co started building a special secret government dacha for Trump and his family in Peredelkino, the Moscow suburb populated by the Russian writers and "intellectuals", so Mr. Trump, his family, and their "significant others" wouldn't feel too much out of touch with their familiar "reality show" element when they defect to Russia.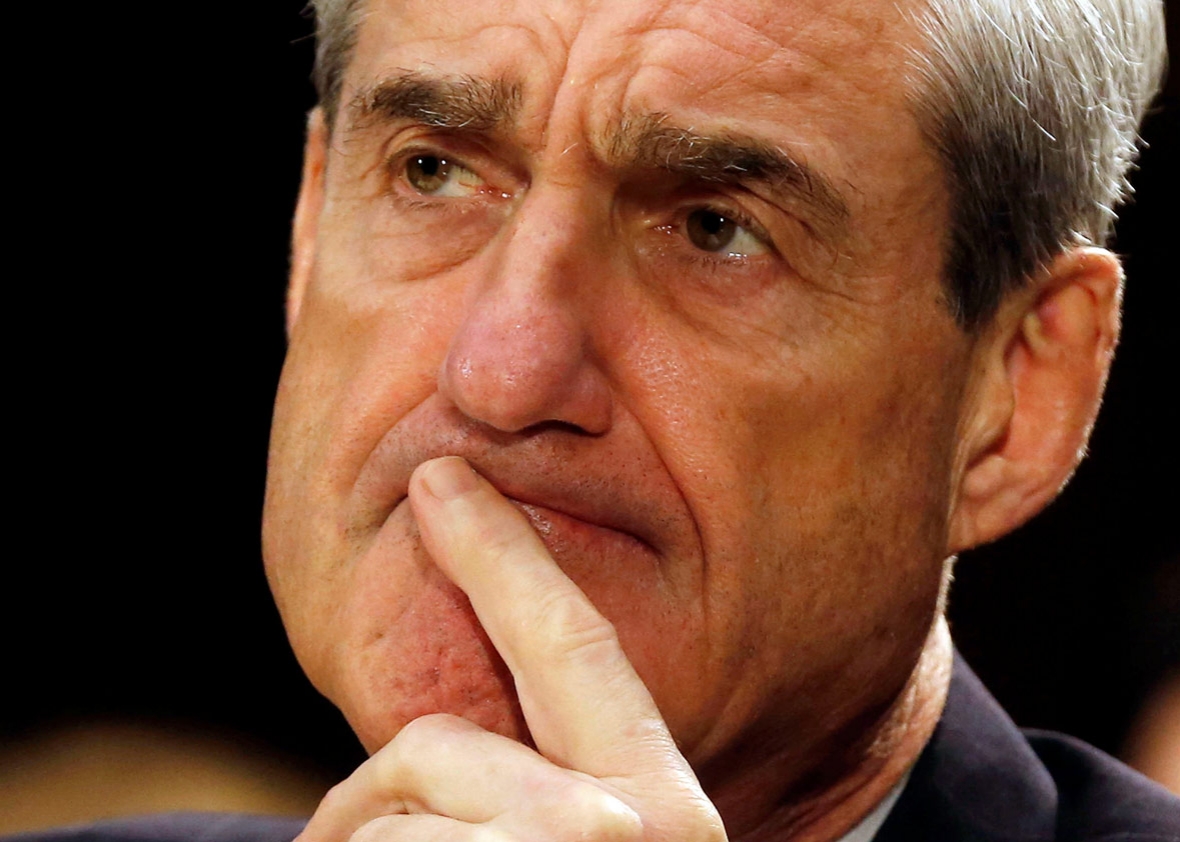 Mr. Mueller, is it possible to complete this investigation as soon as it is realistically feasible before the major damage is done? 
Read the whole story
· · · · · · · · · · · ·
Washington (CNN) Robert Mueller's appointment as special counsel to lead the Russia probe in May caught President Donald Trump by …
Read the whole story
· · ·
Not only should this not be controversial, it's also not new. CIA director Mike Pompeo told an audience in Aspen yesterday that he believes Russia conducted a large-scale campaign to influence the 2016 election, as his agency concluded late last year. Russia has a long track record of such attempts, going back to the Cold War, and it remains an ongoing threat to which American counterintelligence has to remain vigilant:
See Also: "Bye bye Betsy!" Minneapolis police chief resigns as protesters shout down mayor
At the Aspen Security Forum in Colorado, Pompeo was asked whether he supports the findings of U.S. intelligence agencies that Russia interfered in the 2016 election.

"Of course," he replied. "And the one before that, and the one before that."

Later in the question-and-answer session with New York Times columnist Bret Stephens, Pompeo was asked whether he was downplaying Russia's meddling in 2016 by also mentioning the Kremlin's behavior in previous years.

"I am confident that the Russians meddled in this election, as is the entire intelligence community," Pompeo said, appearing agitated at the skepticism towards his previous answer. "I hope I didn't stop at 2008 [for when he says Russian began interfering in U.S. elections]. You can go back to the 70s. My point was simply this: This threat is real. The U.S. government, including the Central Intelligence Agency, has to figure out a way to fight back against it and defeat it. And we're intent upon doing that."
For some reason, this provoked the ire of Adam Schiff, ranking Democrat on the House Intelligence Committee that Pompeo used to chair:
Perhaps Schiff hasn't paid much attention. Pompeo has actually argued this consistently. In an appearance last week at the Intelligence and National Security Alliance Leadership Dinner in McLean, Virginia, Pompeo said almost exactly the same thing without a peep from Schiff:
CIA Director Mike Pompeo said Tuesday night that Russian "clearly" meddled in the 2016 U.S. presidential election.

But Russian interference in U.S. elections is nothing new, Pompeo told an audience at an Intelligence and National Security Alliance dinner. Russians also intervened in the 2012 election and previous election cycles, he said.

"They've been at this a hell of a long time," the former Kansas congressman said.
In fact, until very very recently, Republicans had been remarkably consistent on the threat Russia poses to the US, both militarily and politically. Democrats widely mocked Mitt Romney for his presidential debate position that Russia was our most dangerous geopolitical foe, but Romney consistently held that position throughout the campaign. In June 2012, Romney sharply criticized Barack Obama for failing to recognize Russia as such, and offering concessions rather than demonstrating strength in regard to Vladimir Putin:
"The nation which consistently opposes our actions at the United Nations has been Russia," Romney said. "We're of course not enemies. We're not fighting each other. There's no Cold War, but Russia is a geopolitical foe in that regard."

Romney's remarks came as President Obama has been meeting with Russian leader Vladimir Putin at Mexico's G-20 summit to try to seek common ground over how to deal with Syria, one of Russia's allies. Romney blasted Obama for what he called an ill-advised concession on withdrawing missile-defense sites from Eastern Europe, which he called Putin's "number one foreign-policy objective."

"I think it was an enormous mistake to give them that and what he got in return shows the extraordinary naiveté of a presidency that does not understand the power of resolve and strength," he said.

Asked if he thinks Putin respects Obama, Romney replied: "I believe that people around the world tend to act on their own self-interests as they perceive it. I do not believe that they respond to magnetic personalities and pleasantries, and believe that the best way to shape the course of American foreign policy is show strength — strength in our homes and our economy and our military. And to have a president who shows resolve and locks arms with our allies, as opposed to attacking our allies and trying to control our geopolitical foes."
Republicans with few exceptions lined up behind that view, and continued to warn of the challenges from Russia and of the dangers of underestimating them, militarily and politically. Democrats magically appear to have discovered this threat on November 9th, 2016.
Pompeo's statements are unremarkable, and consistent. Pompeo's statements also do not argue against a potential conclusion that Russia might have been a lot more successful in 2016 than in past election cycles, as Schiff appears to suggest, but just that the threat has existed for a long time before Democrats acknowledged it. And maaaayyyybeee that Russian success in 2016 flows from a national policy under Obama of not taking the threat seriously, as Romney and most Republicans warned in 2008 and 2012, and consistently through the "reset button" and "more flexibility" embarrassments.
Maybe Rep. Schiff needs to pay more attention to what Pompeo says, and less time on television.
Read the whole story
· · · ·
July 21, 2017 / 7:29 PM / 12 hours ago
WASHINGTON (Reuters) – Russia's ambassador to Washington was overheard by U.S. spy agencies telling his bosses that he had discussed campaign-related matters, including issues important to Moscow, with Jeff Sessions during the 2016 presidential race, the Washington Post reported on Friday, citing current and former U.S. officials.
A U.S. official confirmed to Reuters that Ambassador Sergei Kislyak's accounts of two conversations with Sessions, then a U.S. senator and key foreign policy adviser to Republican candidate Donald Trump, were intercepted by U.S. intelligence agencies.
The official, who spoke on condition of anonymity, said there was nothing automatically inappropriate about Sessions, then a U.S. senator as well as a Trump supporter, discussing policy matters or even Trump's thinking about them with a foreign diplomat.
"The question is whether he crossed the line and discussed classified information or talked about deals like lifting sanctions if the Russians were interested in investing in the U.S. or had dirt on Secretary Clinton," said a second official familiar with the intercepts, who also spoke on the condition of anonymity. "His memory is another matter."
Sessions at first failed to disclose his contacts with Kislyak and then said the meetings were not about the Trump campaign.
As Attorney General, he recused himself in March from matters connected to an investigation by the Federal Bureau of Investigation into Russian meddling in the 2016 election and any connections to the Trump campaign following his admission that he had talked to the Russian envoy.
Sessions has denied discussing campaign issues with Russian officials and has said that he only met Kislyak in his role of U.S. senator.
The Post cited one U.S. official as saying that Sessions provided "misleading" statements that are "contradicted by other evidence."
The newspaper reported that a former official said that the intelligence indicates that Sessions and Kislyak had "substantive" discussions on matters including Trump's positions on Russia-related issues and prospects for U.S.-Russia relations in a Trump administration.
The Washington Post cited a Justice Department spokeswoman, Sarah Isgur Flores, as saying: "Obviously I cannot comment on the reliability of what anonymous sources describe in a wholly uncorroborated intelligence intercept that the Washington Post has not seen and that has not been provided to me."
The Post said that Sessions did not discuss interference in the election.
Trump said in a New York Times interview on Wednesday that he was disappointed by Sessions' move to recuse himself, but a White House spokeswoman said on Thursday that the president still had confidence in Sessions "or he would not be the attorney general."
Reporting by Eric Walsh; Editing by Toni Reinhold
1536 : 735
narrow-browser-and-phone
medium-browser-and-portrait-tablet
landscape-tablet
medium-wide-browser
wide-browser-and-larger
medium-browser-and-landscape-tablet
medium-wide-browser-and-larger
above-phone
portrait-tablet-and-above
above-portrait-tablet
landscape-tablet-and-above
landscape-tablet-and-medium-wide-browser
portrait-tablet-and-below
landscape-tablet-and-below
About Cookies on this site
Our site uses cookies and other technologies so that we, and our partners, can remember you and understand how you use our site. Access our Cookie Consent Tool, as seen on every page, to see a complete list of these technologies and to tell us whether they can be used on your device. Further use of this site will be considered consent.
Signed in as mikenova
Share this story on NewsBlur
Shared stories are on their way…
Read the whole story
· · · ·
Next Page of Stories
Loading…
Page 2
Next Page of Stories
Loading…
Page 3
Next Page of Stories
Loading…
Page 4
Next Page of Stories
Loading…
Page 5
Next Page of Stories
Loading…
Page 6
Next Page of Stories
Loading…
Page 7
Next Page of Stories
Loading…
Page 8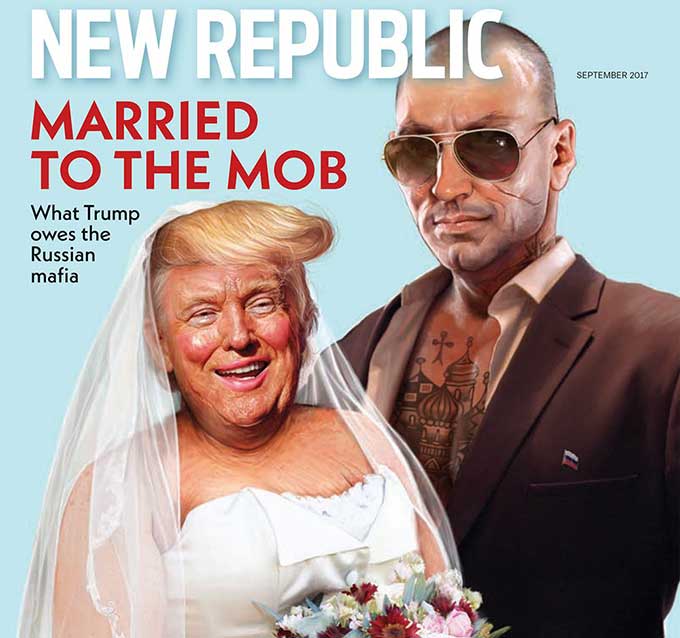 U.S. Special Counsel Robert Mueller has widened his investigation into possible collusion between Russia and Donald Trump's presidential campaign. Mueller is looking into Trump's financial dealings with with unsavory Russian businessman, including mobsters and corrupt Kremlin officials.
Mueller has his work cut out for him — the August/September issue of The New Republic has an in-depth article about Trump's "decades-long ties to Russian mafia." Only someone brainwashed by ideology could read this article and not think Trump has been up to no good for a very long time.
From The New Republic's press release:
In "Trump's Russian Laundromat," veteran journalist Craig Unger details how the Russian mafia has used the president's properties—including Trump Tower and the Trump Taj Majal—as a way to launder money and hide assets. "Whether Trump knew it or not," writes Unger, "Russian mobsters and corrupt oligarchs used his properties not only to launder vast sums of money from extortion, drugs, gambling, and racketeering, but even as a base of operations for their criminal activities. In the process, they propped up Trump's business and enabled him to reinvent his image. Without the Russian mafia, it is fair to say, Donald Trump would not be president of the United States."

Based entirely on the extensive public record, the piece offers the most comprehensive overview of the deep debt that the president owes the Russian mafia. "The extent of Trump's ties to the Russian mafia—and the degree to which he relied on them for his entire business model—is striking," says Eric Bates, editor of the New Republic. "After reading this story, it should come as no surprise to anyone that the president continues to exhibit a deep loyalty to the world of shady Russian operatives who have invested vast sums in his properties."
Trump's lawyer says the new direction Mueller is moving leads to a forbidden zone. From Bloomberg:
John Dowd, one of Trump's lawyers, said on Thursday that he was unaware of the inquiry into Trump's businesses by the two-months-old investigation and considered it beyond the scope of what Special Counsel Robert Mueller should be examining.

"Those transactions are in my view well beyond the mandate of the Special counsel; are unrelated to the election of 2016 or any alleged collusion between the Trump campaign and Russia and most importantly, are well beyond any Statute of Limitation imposed by the United States Code," he wrote in an email.
Read the whole story
· · ·
Democracy Now!
–
Jul 20, 2017
A new exposé and cover story in the September issue of the New Republic, titled "Married to the Mob: What Trump Owes the Russian Mafia," …
U.S. Special Counsel Robert Mueller has widened his investigation into possible collusion between Russia and Donald Trump's presidential …
New Republic
–
Jul 13, 2017
New York, NY (July 13, 2017) — As the full extent of Trump's relationship with Russia during the 2016 election emerges, the August/September …
Former Ukrainian President Viktor Yanukovych (left) and Dmitry Firtash (right)
As we noted earlier here and here, among the many dictators, despots, and shady foreigners who called Trump Tower home were members of the Russian Mafia with connections to Semion Mogilevich, said to be the most dangerous Mobster in the world.
Robert Mueller, the special counsel appointed to investigate Trump's links to Russia, may also be taking an interest in Trump's ties to Mogilevich, a man the FBI says is involved in weapons trafficking, contract murders, extortion, drug trafficking, and prostitution on an international scale.
As described in Wired, among the prosecutors and investigators hired by Mueller, is one Lisa Page:
Also, while the Special Counsel's office has yet to make any formal announcements about Mueller's team, it appears he has recruited an experienced Justice Department trial attorney, Lisa Page, a little-known figure outside the halls of Main Justice but one whose résumé boasts intriguing hints about where Mueller's Russia investigation might lead. Page has deep experience with money laundering and organized crime cases, including investigations where she's partnered with an FBI task force in Budapest, Hungary, that focuses on eastern European organized crime. That Budapest task force helped put together the still-unfolding money laundering case against Ukrainian oligarch Dmitry Firtash…
The hiring of Page, which was confirmed by a Mueller spokesman in The New York Times, gives the special counsel a team member with knowledge of not only Dmitry Firtash, but of the man who is believed to stand behind him: Semion Mogilevich.
Full disclosure: Firtash hired the Washington law firm Akin Gump to clear him of links to Mogilevich. I profiled Akin Gump partner Mark MacDougall in this 2008 piece.
Firtash, pictured above, made his fortune in the 2000s in the natural gas sector. In 2004, Firtash and a minority partner emerged with 50 percent ownership of a murky Swiss company called RosUkrEnergo (RUE). RUE extracts gas from Central Asia and acts an intermediary between Russia and Ukraine for the delivery of gas.  The other half of RUE is held by Gazprom, the gas giant controlled by the Russian government, which shows that Firtash has close ties with the Kremlin.
Billions of dollars flowed through RUE and some of that money was allegedly siphoned off by Semion Mogilevich, who U.S. government officials say (see here) is the man behind the curtain at the gas company. One of the few willing to say this publicly was Ukraine's former prime minister, Yulia Tymoshenko, a political enemy of Firtash, who got thrown in jail for her troubles. Notably, Firtash's stake in RUE remained a secret for two years.
Intelligence Online, a Paris-based news organization with deep sources in the spy world, published this handy chart of the Firtash/Mogilevich connections, under the headline "The Tip of the Mogilevich Iceberg:"
Firtash admitted to William Taylor, the US ambassador to the Ukraine, that he has had dealings with Mogilevich, according to a 2008 State Department cable leaked by Wikileaks:
(S) The Ambassador asked Firtash to address his alleged ties to Russian organized crime bosses like Semyon Mogilievich. Firtash answered that many Westerners do not understand what Ukraine was like after the break up of the Soviet Union, adding that when a government cannot rule effectively, the country is ruled by "the laws of the streets." He noted that it was impossible to approach a government official for any reason without also meeting with an organized crime member at the same time. Firtash acknowledged that he needed, and received, permission from Mogilievich when he established various businesses, but he denied any close relationship to him.
And in this October 2009 press release, the FBI took note of Mogilevich's control of natural gas supplies. "Through his extensive international criminal network, Mogilevich controls extensive natural gas pipelines in Eastern Europe," the bureau wrote in a veiled reference to RUE.
The question is what is the nature of the relationship between Firtash and Mogilevich. Is it a thing of the past, as Firtash insists? Or is Firtash a front man for Mogilevich?
Presumably, the FBI — and, by extension, Lisa Page — knows the answer. The bureau has been investigating Firtash since 2006, according to The New York Times. A year before that, the FBI passed their counterparts in the Austrian police a confidential report naming Firtash as a "senior member" of the Semion Mogilevich Organization, according to a  2008 report by Roman Kupchinsky, an analyst with Radio Free Europe.
Page's work in Budapest involved her deeply in the Firtash/Mogilevich world. The Wired article suggests she worked on the case that led to Firtash's arrest in Vienna in 2014. Firtash was indicted by a federal grand jury in Chicago on charges of plotting a bribery scheme to set up a $500 million titanium business in India. He remains free after a Russian billionaire friend posted bail of $174 million but cannot leave Austria.
And Budapest is also a home of sorts for Mogilevich. He resided in Budapest when he ran a pump-and-dump scheme through a publicly traded front company called YBM Magnex Inc. Mogilevich was indicted in 2003 on charges of fraud, racketeering and money laundering in YBM Magnex.
So, what does this have to do with President Trump?
Firtash was a business partner of Trump's former campaign manager, Paul Manafort, who was deeply involved in Ukrainian politics. Manafort advised Viktor Yanukovych on his successful 2010 campaign for the presidency of Ukraine. He resigned from the Trump campaign after The New York Times found a handwritten ledger showing that Yanukovych paid Manfort $12.7 million in cash.
While he was assisting Yanukovych, Manafort became business partners with Firtash. The two men explored developing a 65-floor tower on the site of the Drake Hotel in Midtown Manhattan.
A 2011 lawsuit filed in New York by Tymoshenko, the former Ukrainian prime minister, called this partnership between Firtash and Manafort a means of laundering the proceeds of gas deals between the Ukraine and Russia. Firtash says that the lawsuit was full of lies, but he confirmed to Bloomberg Businessweek that he did put $25 million in an escrow account for the developers of the Drake project that Manafort helped him set up. The deal collapsed and the tower was never built.
It's a good bet to say that we only know a little of this story, which is buried in the files of the FBI and the US intelligence community. But Trump Tower's role as a home away from home for Russian mobsters with Mogilevich and his unhinged, self-destructive reactions to anyone probing into Russia suggests that there is more, much more to come. Stay tuned.
Read the whole story
· · · · · · ·
Read the whole story
· · ·
Next Page of Stories
Loading…
Page 9