Mike Nova's Shared NewsLinks
Juan Williams: Trumps war on U.S. intelligence | TheHill
---
OPINION: The presidents crude criticisms of U.S. intelligence findings are unfair and unprecedented.
Source: Juan Williams: Trump's war on U.S. intelligence | TheHill
Just Security: The Early Edition: July 17, 2017
---
Before the start of business, Just Security provides a curated summary of up-to-the-minute developments at home and abroad. Heres todays news.
TRUMP-RUSSIA INVESTIGATION
The Secret Service would have put a stop to it if there had been anything nefarious about the meeting between Donald Trump Jr., President Trumps son-in-law Jared Kushner, his then-campaign manager Paul Manafort and Russian lawyer Natalia Veselnitskaya and Russian lobbyist and possible former Soviet intelligence agent last year, President Trumps lawyer Jay Sekulow said yesterday, a claim a Secret Service spokesperson subsequently cast doubt on by pointing out that Trump Jr. was not under Secret Service protection in June 2016.Greg Jaffe reports at the Washington Post.
Donald Trump, Jr. was not a protectee of the U.S.S.S. in June, 2016. Thus we would not have screened anyone he was meeting with at the time. Secret Service spokesperson Mason Brayman reiterated that Trump Jr. was not under Secret service protection at the time of his meeting in a statement issued yesterday following Sekulows assertions, Reuters Arshad Mohammed and Howard Schneider report.
Nothing in that meeting was illegal or a violation of the law, Sekulow said in a separate interview on Fox News Sunday, one of five interviews on major Sunday news shows in which he made a full-court defense of his client President Trump, whom he said was unaware of the meeting, writes Rebecca Savransky at the Hill.
Donald Trump Jr.s meeting with Veselnitskaya clearly brings the [Trump-Russia] investigation to a new level and makes our effort all the more important, the top Democrat on the Senate Intelligence Committee Sen. Mark Warner said yesterday, NBC News Kailani Koenig reports.
Donald Junior made a mistake, former Trump adviser Michael Caputo said in an interview yesterday, adding that while the meeting with Russian lawyer Natalia Veselnitskaya should have raised a red flag for an experienced campaign operative, for a family member, for a first-time candidate for president of the United States in a whirlwind like we were in it was unsurprising and understandable. The Hills Cyra Master reports.
The ultimately-executive decision whether White House senior adviser Jared Kushner loses his security clearance over his actions including failing to disclose meetings with senior Russian officials could ultimately rest with President Trump, his father-in-law, explain Austin Wright and Josh Dawsey at POLITICO.
Was Russian developer Aras Agalarov, named in emails arranging a meeting between Donald Trump Jr. and a Russian lawyer who claimed to have dirt on Hillary Clinton, a Kremlin conduit to President Trump? Neil MacFarquhar considers this question at the New York Times.
RUSSIA
The hope that the U.S. would find the political wisdom to return two Russian diplomatic compounds that were seized under the Obama administration based on Russias alleged involvement in the hacking of the 2016 U.S. Presidential election was expressed by the Kremlin today, Reuters reports.
Unless the Russia sanctions bill currently awaiting a vote in the House undergoes serious revision it would compromise European energy security and damage U.S.-European relations, with Russia as the ultimate beneficiary. The former German ambassador to the U.S. Wolfgang Ischinger explains why Europeans oppose the U.S. Russia sanctions bill at the Wall Street Journal.
IRAN
American Princeton University researcher Xiyue Wang was sentenced to 10 years prison on charges of spying for the U.S. by an Iranian court, an Iranian judiciary official confirmed yesterday, Rick Gladstone reporting at the New York Times.
The immediate release of American citizens detained in Iran on fabricated national security chargeswas called for by the U.S. Department of State yesterday, Al Jazeera reports.
President Trumps arbitrary and conflicting policies as well as those of his arrogant, aggressive and occupying allies were to blame for global instability, Iran said over the weekend, after Trump called Iran a rogue regime during his press conference with French President Emmanuel Macron last week, Reuters reports.
The KOREAN PENINSULA
South Korea has requested talks with North Korea in an effort to ease tensions along their shared border and resume the reunification of families separated since the Korean War in the 1950s, South Koreas vice defense minister Suh Choo-suk said today, Al Jazeera reporting.
If Pyongyang agrees to the military talks they will be held Friday in the truce village of Panmunjom in the supposedly demilitarized zone between the North and the South, with experts anticipating that Kim Jong-un will likely agree to the military talks but reject returning to the Red Cross talks aimed at reunifying families, writes Bryan Harris at the Financial Times.
Myanmar has no military ties with North Korea, a Myanmar official said today as U.S. diplomat Ambassador Joseph Yun who is responsible for North Korea arrived in Myanmar for talks during which he is likely to seek assurances that it will comply with U.S. efforts to isolate the Pyongyang regime, Simon Lewis reports at Reuters.
Yuns trip to Myanmar is symbolic of a key Trump administration tactic, cutting of North Korean revenue no matter how small or obscure the source, suggests Joshua Berlinger at CNN.
SYRIA
Two shells were fired at the Russian embassy in the Syrian capital of Damascus yesterday, according to Syrian state news agency S.A.N.A., the attack coming amid a Syrian government forces offensive against rebel-held areas in Damascus, the AP reports.
Israeli Prime Minister Benjamin Netanyahu expressed opposition to the U.S.-Russia brokered ceasefire in southern Syria during a meeting with French President Emmanuel Macron yesterday, stating that the ceasefire perpetuates Irans presence in Syria and poses a threat to Israels security. Barak Ravid reports at Haaretz.
The E.U. is set to impose sanctions against 16 Syrian scientists and military officers responsible for chemical weapons attacks against civilians, adding to the broad range of E.U. sanctions against Syrian President Bashar al-Assads regime instituted since the conflict began, Lauren Norman reports at the Wall Street Journal.
Baghdadi is definitely alive. We believe 99 percent he is alive, a top Kurdish counterterrorism official Lahur Talabany said today, warning that Islamic State leader al-Baghdadi knows what he is doing, Reuters reports.
The seventh round of U.N. Syria peace talks produced no breakthrough, no breakdown, U.N. Syria envoy Staffan de Mistura said Friday, stating that representatives of Assads government refused to discuss political transition, Al Jazeera reports.
IRAQ
The lack of long-term plans for reconstruction in Iraq and Syria will lead the Trump administration to repeat mistakes of previous administrations, neglecting humanitarian needs perpetuates the conditions for extremism to thrive, Josh Rogin writes at the Washington Post.
Irans success in making Iraq a client state – entrenching its influence in Iraqs military, politics and economy, playing on sectarian divides, and using Iraq as a springboard for expansionism in the region represents a failure in U.S. foreign policy, Tim Arango writes at the New York Times.
The international community should not underestimate the Islamic States ability to exploit vacuums of power and, although militants have faced setbacks in Mosul and Raqqa, the U.S. and its allies should draw a clear political roadmap for Iraq and Syria to help neutralize the Islamic States ability to exploit local grievances. Hassan Hassan writes at the Guardian.
The fight against the Islamic State in Syria and Iraq is far from over and tough battles are yet to be fought despite the defeat of militants in the Iraqi city of Mosul and the impending defeat of militants in the Syrian city of Raqqa. Liz Sly outlines six of those battles at the Washington Post.
The Trump administrations relaxation of protections for civilians in Iraq and Syria, as well as the brutality of the final stages of the battles in Mosul and Raqqa, is demonstrated by research which shows that approximately 12 civilians have been killed every day in Iraq and Syria since President Trumps inauguration, Samuel Oakford writes at The Daily Beast.
GULF-ARAB DISPUTE
The U.A.E. orchestrated the hacking of Qatari government news and social media sites on May 23, attributing false quotes to Qatars emir which were then cited by Saudi Arabia, U.A.E., Egypt and Bahrain as a reason for banning all Qatari media and diplomatically isolating Qatar, according to U.S. intelligence officials. Karen De Young and Ellen Nakashima report at the Washington Post.
The allegation that U.A.E. was involved in hacking is false, the U.A.E. Ambassador to the U.S. Yousef al-Otaiba said in a statement yesterday, adding that [what] is true is Qatar's behavior. Funding, supporting, and enabling extremists, Al Jazeera reports.
You cannot be both our friend and the friend of al-Qaeda, U.A.E. Foreign Minister Anwar Gargash will warn Qatar today, Patrick Wintour at the Guardian citing it as the strongest indication yet that Saudi Arabia, U.A.E., Egypt and Bahrain plan to expel Qatar from the Gulf Cooperation Council (G.C.C.).
We need a regional solution and international monitoring to address the ongoing Gulf-Arab dispute, Gargash will also say today in prepared remarks, adding that the pressure from the four Arab nations is working, with the memorandum of understanding between U.S. and Qatar signed last week on financing terrorism providing evidence of this, Al Jazeera reports in rolling coverage.
Qatars policy of welcoming unwanted individuals has angered its Gulf neighbors and its image as a place of refuge for dissidents, extremists, members of the Muslim Brotherhood, Taliban officials and others underlies the current Gulf-Arab dispute. Declan Walsh explains at the New York Times.
AFGHANISTAN
The death of Islamic States leader in Afghanistan was announced by the Pentagon Friday, confirming that U.S. forces killed Abu Sayed in an airstrike on the groups eastern headquarters in a statement, Ellen Mitchell reports at the Hill.
At least 1,662 Afghan civilians have been killed in the first half of this year and 3,581 wounded, according to a statement released by U.N. investigators today, the head of the U.N. Assistance Mission to Afghanistan Tadamichi Yamamoto stating that the figures represent the human cost of this ugly war, Josh Smith reporting at Reuters.
Canadian Prime Minister Justin Trudeaus decision to award a reported C$10.5m to former Guantanamo Bay detainee Omar Khadr undermines Canadian values and limits the legal options of the family of Sgt. First Class Christopher Speer who was killed by a grenade thrown by Khadr, Conservative Member of the Canadian Parliament and official opposition critic for foreign affairs Peter Kent writes at the Wall Street Journal.
ISRAEL and PALESTINE
The resumption of Israeli-Palestinian peace talks was called for by French President Emmanuel Macron following talks with Israeli Prime Minister Benjamin Netanyahu in Paris yesterday, adding that France was prepared to apply diplomatic levers toward renewed negotiations without being specific, Al Jazeera reports.
Controversial new security measures including check points were introduced at Jerusalems sacred al-Aqsa Mosque compound yesterday two days after three Palestinians with Israeli citizenship killed two police officers in an attack there before being shot dead themselves, Ruth Eglash reports at the Washington Post.
PAKISTAN
A major offensive against the Islamic State has been launched in the north-western region of Pakistan along its border with Afghanistan, Pakistans military said, adding that militants had gained ground inside Afghanistan and had to be prevented from spreading their influence. The BBC reports.
India targeted a Pakistani military vehicle and killed four Pakistani soldiers in unprovoked cross-border fire in the Kashmir region yesterday, according to Pakistani military officials. Al Jazeerareports.
A new approach toward Pakistan that could involve an end to U.S. assistance and increased security cooperation with India will be discussed by President Trump when he meets with his national security team this week, when they will also discuss the U.S. strategy for Afghanistan, CNNs Barbara Starr reports.
OTHER DEVELOPMENTS
A provision forcing Congress to vote on a new Authorization for Use of Military Force (A.U.M.F.) may be stripped out of the House Appropriations defense spending bill which hit a roadblock this week, Rep. Barbara Lee (D-Calif.), who introduced the provision, offering an amendment to revoke a 2001 A.U.M.F. in eight months, Ellen Mitchell reports at the Hill.
A Turkish military vehicle was blown up as it passed through the Yuksekova district of Turkeys Hakkari province which borders Iran and Iraq today, wounding 17 soldiers, in an attack the Turkish military attributed to the Kurdistan Workers Party (P.K.K.), Reuters reports.
Indonesia renamed waters in its exclusive economic zone that overlap with Chinas claims in the South China Sea as the North Natuna Sea in an assertion of sovereignty announced Friday that has angered Beijing, the APs Christopher Bodeen reports.
The U.N. banned nuclear weapons this month, the worlds nine nuclear powers boycotting the vote, the U.S., Britain and France jointly denouncing the treaty in a statement asserting that it clearly disregards the realities of the international security environment that continue to make nuclear deterrence necessary, while North Korea has not declared where it stands, but Iran has signed up. The Wall Street Journal editorial board expresses its reservations in a brief overview.
 Just Security
Juan Williams: Trump's war on U.S. intelligence
---
By Juan Williams – 07/17/17 06:00 AM EDT
87
Signed in as mikenova
Share this story on NewsBlur
Shared stories are on their way…
putin won US 2016 election – Google News: Juan Williams: Trump's war on US intelligence – The Hill
---

The Hill

Juan Williams: Trump's war on US intelligence

The Hill

Last week, President Trump said it is just blather not a fact that Russian President Vladimir 

Putin

 wanted him to 

win

 the presidency. … Once again, his goal was to diminish the value of their finding that Russia wanted him to 

win

 the 

2016 …
 putin won US 2016 election – Google News
A Russian Developer Helps Out the Kremlin on Occasion. Was He a Conduit to Trump? The New York Times
---
Source: A Russian Developer Helps Out the Kremlin on Occasion. Was He a Conduit to Trump? – The New York Times
Russia Isnt Delivering for Donald Trump The New York Times
---
Source: Russia Isnt Delivering for Donald Trump – The New York Times
Web World Times wwtimes.com: Russia isnt delivering for Trump, and Trump isnt delivering for Russia. So, what is the deal, and who are the dealers?!
---
"Russia isn't delivering for Trump", and "Trump isn't delivering for Russia". So, what's the deal, and who are the dealers?! Ask the Germans, they know but won't tell… 
Russia Isnt Delivering for Donald Trump The New York Times
How Has Supporting Trump Worked Out for Russia? – New York Magazine
 Web World Times wwtimes.com
"Russia isnt delivering for Trump, and Trump isnt delivering for Russia. So, what is the deal, and who are the dealers?!
---
"Russia isn't delivering for Trump", and "Trump isn't delivering for Russia". So, what's the deal, and who are the dealers?! Ask the Germans, they know but won't tell… 
Russia Isnt Delivering for Donald Trump The New York Times
How Has Supporting Trump Worked Out for Russia? – New York Magazine
How German Condoms Funded the Russian Revolution
---
The French suggested that they might have proof. Encouraged by that hope, a Russian colonel named Boris Nikitin was put in charge of the investigation. He dispatched a spy to monitor the Bolsheviks' use of the telegraph and paid informers for all gossip, true or false. Nikitin's was a full-time job, but the only office space available was in a building partly occupied by yet more suspect Bolsheviks. Not only did the colonel feel like the one being watched, but all his windows opened onto fluttering red flags.
Meanwhile, the provisional government continued to prosecute the war. In late June, it launched an offensive on the Galician front. Though vaunted as a campaign by the crack troops of a free new state, it collapsed within three days. Large-scale disturbances ensued in Petrograd, complete with street battles between right- and left-wing gangs, black flags and socialist banners, panic, shooting and civilian deaths. There were new rumors of a coup.
In desperation, Pavel Pereverzev, the justice minister, tried scapegoating the Bolsheviks for Russia's dismal plight. His evidence was flimsy (he was promptly ordered to resign), but the idea that Lenin had been working for the Germans prompted a manhunt. As Petrograd descended into chaos, government thugs ransacked the office that produced the Bolshevik newspaper, Pravda. Several leading revolutionaries were imprisoned, among them Leon Trotsky. Beardless and disguised beneath a wig, Lenin fled the Russian capital in fear for his life. In August, after collecting more testimony, the provisional government condemned him in absentia.
The case against Lenin was always thin. Pereverzev's evidence, which involved a contract Lenin was alleged to have signed in Berlin at some time in the previous year, turned out to be the raving of a fugitive prisoner of war. The press proffered more fairy tales — Lenin's sister was a spy based in Salonica, Lenin had been murdered, Lenin's real name was Mytenbladm or Zederbluhm. Years later, Trotsky remembered July 1917 as "the month of the most gigantic slander in world history."
In fact, Lenin was far from dead. He used the months in Finland to lay new, ambitious plans. By mid-September, he felt bold enough to slip back into Russia and take up the fight again, this time preparing his lieutenants for a Bolshevik seizure of power. The operation took place on Nov. 7, and that same day the streets of Petrograd were littered with leaflets announcing the triumph of Lenin's new Soviet regime.
But questions about finance have a way of haunting history's great men. Lenin relied on secrecy; the Germans let him down. At the end of 1917, Germany's foreign minister, Richard von Kühlmann, gloated about his country's role in November's Bolshevik coup. Berlin, he said, had long schemed to subvert Russia. The challenge had been to find a person who could do the job. The Germans had backed a range of hopefuls, from Finnish nationalists to Central Asian jihadists. "It was not until the Bolsheviks had received from us a steady flow of funds through various channels," Kuhlmann explained in a frank memorandum, "that they were in a position to build up their main organ, Pravda, to conduct energetic propaganda and to extend the originally narrow basis of their party."
Lenin's bank records were scrupulous enough. He protested that he had snubbed every agent the Germans sent him. He insisted (rightly) that his party had triumphed by giving voice and shape to real passions and despairs. Still, cash had been essential. In the summer of 1917, the British estimated that it would cost them 2 million pounds a month to match Lenin's propaganda effort. The high price had to take account of Bolshevism's genuine appeal, but even Lenin knew that newspapers and posters did not print and distribute themselves.
That's where the condoms and lead pencils come in. Lenin could not risk accepting direct bribes, but it was easy for Berlin to supply his agents with commodities and then forget to send the bill. Goods were exported to Denmark (which was legal), the packaging was changed (illegal), and then they were resold to countries where imports from Germany were banned. Part of the profit found its way into the Bolsheviks' coffers via businesses in Stockholm. A key part here was played by Yakov Fürstenberg, the manager of a Scandinavian-based import-export company whose directors, Alexander Helphand and Georg Sklarz, were known agents of Germany. Though Lenin publicly disdained Helphand, Fürstenberg was one of his closest contacts, his north European fixer.
"Lenin's entry into Russia successful," the German spy chief in Stockholm reported to his masters in April 1917. "He is working exactly as we would wish." But it was Lenin who would win the high-stakes gamble in the end. The kaiser and his ministers were swept away, but Lenin's empire went from strength to strength. As he had put it years before: "Sometimes a scoundrel is useful to our party precisely because he is a scoundrel."
"Russia isnt delivering for Trump, and Trump isnt delivering for Russia. So, whats the deal, and who are the dealers?! Ask the Germans, they know
---
"Russia isn't delivering for Trump", and "Trump isn't delivering for Russia". So, what's the deal, and who are the dealers?! Ask the Germans, they know but won't tell… 
Russia Isnt Delivering for Donald Trump The New York Times
How Has Supporting Trump Worked Out for Russia? – New York Magazine
"Russia isn't delivering for Trump", and "Trump isn't delivering for Russia". So, what's the deal?! http://webworldtimes.com 
Russia Isn't Delivering for Donald Trump https://nyti.ms/2voLZjH 

Opinion | Russia Isn't Delivering for Donald Trump

His bromance with Vladimir Putin hasn't resulted in diplomatic gains.

nytimes.com
How Has Supporting Trump Worked Out for Russia? http://nymag.com/daily/intelligencer/2017/07/how-has-supporting-trump-worked-out-for-russia.html?utm_source=tw&utm_medium=s3&utm_campaign=sharebutton-t … via @intelligencer

How Has Supporting Trump Worked Out for Russia?

A scorecard on how far Trump has advanced Russian interests (whether knowingly or unknowingly), from easing sanctions to Syria.

nymag.com
How Has Supporting Trump Worked Out for Russia?
---
We now know with more certainty than we did a couple weeks ago that the Russian government tried to tip the scales in last year's presidential election toward Donald Trump, and central figures in the Trump campaign were apparently only too happy to accept the assistance. But just what did Russian President Vladimir Putin get for his efforts? Has he received a decent return on his investment, or is Trump backfiring on him?
Here's a look at some of the policy areas in which Putin likely hoped a Trump victory would advance Russian interests, and how well Trump has delivered (whether knowingly or unknowingly). Remember, it's Putin giving the grades here, so high marks don't necessarily mean a job well done.
Sanctions
In backing Trump, perhaps no objective was a bigger motivator for Putin and his oligarchic comrades than the easing of U.S. sanctions on Russia. While the impact of the sanctions on Russia's ruling class has not been as sharp as it's been for the underclass, a lot of wealthy Russians (including people who are personally friendly with Putin and Trump) would like to be able to travel, spend money, and do business in the U.S. and Europe more freely again. Trump's people were signaling to Russia that he was willing to give ground on sanctions before he took office — and possibly before he was elected.
So far, no such luck. The Senate imposed new sanctions on Russia in June to punish the Kremlin for its election interference and, being well aware of Trump's excessive coziness with Putin, took steps to limit his ability to lift them. Trump has since put pressure on Congress to give him more flexibility in this regard, and his administration is doing what it can to ease the sanctions regime in order to "give collaboration and cooperation a chance," as his advisor Sebastian Gorka put it on CNN on Thursday. On the other hand, the administration slapped new sanctions on 38 Russian individuals and entities last month over Russia's incursion in Ukraine.
Grade: B-
Cybersecurity
If Putin has his way, 2016 won't be the last U.S. election marred by interference by Russian intelligence. It would be a shame if the president he helped us elect turned around and made it harder for him to "participate" in the future. Fortunately, Trump can't admit that our elections are vulnerable to foreign interference without admitting that it helped him win, which his ego won't allow, so he's doing nothing to prevent Russia or other hostile actors from taking further cracks at our political parties' communications or our election infrastructure. Instead, he's channeling his energies into hunting down the millions of fraudulent U.S. voters that exist only in the fevered minds of some on the right. He and Putin even agreed to set up a joint cybersecurity unit at their G20 meeting, which would be kind of like partnering with Imperial Japan to establish a joint early warning system for aerial bombardments in the Pacific in 1942. Even Trump himself admits this won't work.
Grade: A+
NATO
Trump's campaign-trail diatribes against our NATO allies for not paying their fair share of defense costs was music to Putin's ears, as a NATO weakened by wavering American support would give him a freer hand to re-assert Russia's sphere of influence in Eastern Europe and particularly the Baltic countries. Trump alarmed allies, blindsided his own national security team, and surely set Putin's heart aflutter when he declined to commit to the Article 5 mutual-defense provision in a speech at NATO headquarters in May — only to backtrack and say he would indeed uphold it in a press conference in Romania early last month. Clearly, his military and national security staff set him straight in the interim. Meanwhile, other NATO countries are boosting their defense spending this year, for which Trump is taking too much credit. This is looking more and more like one campaign pledge the president won't be able to fulfill.
Grade: F
Europe
If Putin can't have a weaker NATO, a fractured European Union might be the next best thing — hence Russia's (unsuccessful) efforts to help the Euroskeptical rightist Marine Le Pen in France's presidential election in the same way he helped Trump in ours. On the whole, Trump does not instill much confidence in European leaders: Alienating Europe appears to be among his policy goals, and he now has Germany worried that he will start a trade war. On the other hand, Trump's hostility to trans-Atlantic cooperation has Europe seeking other partners, such as Japan, and it may be unwittingly making Europe stronger by helping Europeans appreciate the value of their union and the need for self-reliance. He's also not abandoning the U.S. commitment to European security vis-à-vis Russia, as evinced by his agreement to sell Patriot air defense missiles to Poland earlier this month.
Grade: C
Syria
Russia's objectives in Syria remain as they have always been: to keep Bashar Al-Assad in power, Islamists out of power, and the Russian naval facility in Tartus open. Trump's frustration with the Syrian stalemate and hesitation to oust Assad suited Putin much better than Clinton's plans for more direct engagement.
After their G20 meeting, Trump and Putin announced that the U.S., Russia, Israel, and Jordan had brokered a ceasefire in southwest Syria, which took effect last Sunday. While Secretary of State Rex Tillerson maintains that the U.S.'s long-term goal for Syria is for Assad to step down, the new Syria strategy that emerged from the meeting would leave him in power, at least for the time being. The U.S. will limit its efforts in Syria to counterterrorism operations and defeating ISIS, de-emphasizing its assistance to moderate Syrian rebel groups. The ceasefire involves establishing four "de-escalation zones" designated by Russia in coordination with Turkey and Iran, which the Syrian opposition sees as a ploy to freeze front lines and give Assad's forces an advantage. Critics have called the ceasefire plan unenforceable, said it ignores Iran's role in the conflict, and entails a capitulation to Russia's agenda from which Iran will emerge the winner. In short, it looks like the shots in Syria are now being called from Moscow, not Washington.
Grade: A
Democrats say Trump Jr.s meeting takes Russia probe to a new level Los Angeles Times | Germanys Not Such a Great Candidate to Lead the Free World Either Daily Beast | Trumps ties to Russia are deep Fosters Daily Democrat | Leonard Pitts Jr.: What is wrong with Trump? Manhattan Mercury
---
Saved Stories – 1. Trump Trump: Don Jr.'s Russia scandal is just fake news – NEWS.com.au Judge me on four things, said Trump. So we did – BBC News Trump Taps Washington Lawyer To Become White House Special Counsel Amid Russia Probes – NPR Donald Trump Could Learn A Lot From Reebok's Viral Tweet – … Continue reading"Democrats say Trump Jr.'s meeting takes Russia probe to a 'new level' – Los Angeles Times | Germany's Not Such a Great Candidate to Lead the Free World Either – Daily Beast | Trump's ties to Russia are deep – Foster's Daily Democrat | Leonard Pitts Jr.: What is wrong with Trump? – Manhattan Mercury"
Psychiatry professors call on Congress to impeach Trump – American Thinker (blog)
---
Psychiatry professors call on Congress to impeach Trump

American Thinker (blog)

Psychiatry professors call on Congress to impeach 

Trump

. By Rick Moran … Ever since then, the American 

Psychiatric

Association has had a policy known as "The Goldwater Rule" that ethically forbids mental health professionals from commenting on the 

…
Warner: 'Unbelievable' Trump wasn't told about meeting – CNN
---
How the Trump Jr. meeting fits into the larger Putin game plan – CNN International
---
How the Don Jr. meeting fits into the larger Putin game plan (opinion)
---
But what the media, the public and investigators should really focus on now is what happened after the meeting. The key is to think more broadly, including asking two questions.
First, assuming this was an overture by Russian intelligence agencies, despite the
, what would the Russian government most likely have done next?
Second, how should we then interpret subsequent actions of the Trump circle in light of the actions the Kremlin would have pursued? The answers to those questions suggest that the alleged collusion between the Trump circle and Putin's team could well have continued far beyond June 9.
Instead, the media coverage seems geared toward making the meeting explicable in terms of an ill-advised, short, perhaps even forgettable meeting for which Donald Trump Jr. takes the heat. That narrative often
 the idea that this may have been an independent, ill-conceived attempt on the part of a Russian lobbying group to provide what was ultimately fairly useless information about Hillary Clinton.
We have
on how the meeting bears all the hallmarks of a Russian intelligence operation and, in particular, a test to gauge whether the Trump campaign would be open to assistance from the Russian government.
In that event, Moscow got a green light. The only problem with the Russian attempt, according to Trump Jr. and the Russian lawyer, was that the quality of the information on Clinton
. Trump Jr. and his team apparently wanted more.
So why would the Kremlin provide nothing of value to the Trump principals and disappoint them, especially when we know that by May, according to the
, Putin had in his possession what he needed from the DNC server?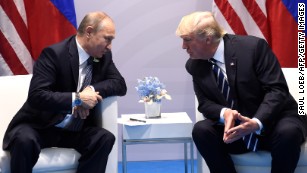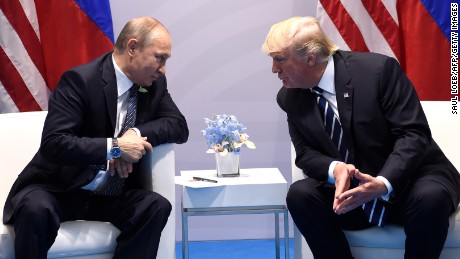 MUST WATCH
Loaded: 0%
Progress: 0%
0:00
Loaded: 0%
Progress: 0%
0:00
02:21
The logical explanation is because their intention was to establish interest in the Trump campaign's receiving compromising material, not in satisfying their appetite for it. The information that was reportedly passed at this meeting has the feel of representing intelligence "feed material" to establish interest in more, higher quality information in the future.
Coincidentally, perhaps, it was only
 that the DNC emails began to leak as part of a large scale influence operation to affect the presidential election.
Putin would need to keep a close eye on Donald Trump himself to see if his mercurial and contradictory positions on various issues during the campaign were ever reflected in his approach to Russia. Presumably, it would also be in the Russian interest to seek a direct signal from Trump himself that he was on board with the operation.
The Trump team's actions in the days following that fateful meeting are incriminating, and bear a
 with what is reported in the Christopher Steele dossier.
Rather than notify authorities about the Russian overture, they kept it mum and
 when asked. In early July, according to Politico, Carter Page was
 to Moscow. The Trump team would have had to know, at the very least, that Page would be approached by Russian intelligence agents. The campaign and Page long refused to say whether he was authorized to travel to Moscow, until the news media
 that the campaign did indeed authorize the trip.
During the summer months, American intelligence, reported by the New York Times,
began picking up conversations
 in which Russian officials were discussing contacts with Trump associates, and European allies were starting to pass along information" that described "meetings in European cities between Russian officials –and others close to Russia's president, Vladimir V. Putin — and associates of President-elect Trump." Trump has denied that his campaign had any contact with Russian officials. .
The Washington Post
 that Michael Flynn's undisclosed communications with the Russian ambassador involved a "series of contacts … that began before the Nov. 8 election." In late July, within a few days of officially securing the GOP nomination at the Republican convention, candidate Trump
 Russian assistance and election interference.
And in December, Jared Kushner, in an undisclosed short meeting with the Russian ambassador, proposed establishing a channel of communications with Moscow inside a Russian embassy or consul.
Was that also just another ill-advised idea of a neophyte? The former head of the Defense Intelligence Agency and a Russia hand, Flynn was the
 of the Trump transition team who actively participated in the meeting. He knew better, just as Paul Manafort did during the June 9 meeting. The list goes on.
Two other pieces of information that stand out: First, Trump has
 Russian election interference, which is bizarre given the consensus of opinion among US and foreign intelligence communities.
Why does he do this? Here's a theory: Because it takes two to collude, and if one party doesn't know what the other is doing, that's a way out politically and legally. Second, it is
 for foreign governments and their diplomats to communicate with a presidential campaign and the major party candidates. Why then completely deny it ever happened?
Based on recent reporting, we know now that the June 9 meeting included, on the Russian side,
 of one of Putin's top priorities:
 of the Magnitsky Act. What was offered in the room that day — remarkably in accord with what
 and
, one of the Russian-American lobbyists in attendance, have themselves both said on the record — boils down to a quid pro quo for incriminating information on Hillary Clinton in exchange for sanctions relief.
Understanding the context for each drip of information associated with the Trump campaign and Russia is crucial for properly interpreting the significance of each event, and how each fits into a greater whole. Through this process, America will finally have the truth that is being sought.
trump and intelligence community – Google News: Trump's approval rating the lowest since 1975: poll – New York Post
---

New York Post

Trump's approval rating the lowest since 1975: poll

New York Post

Sixty-six percent of those surveyed said they don't trust him to negotiate with world leaders or with Putin, who the US

intelligence community

 said directed the hacking into the 2016 presidential election. On that matter, 60 percent of Americans think 

…
 trump and intelligence community – Google News
mueller – Google News: Trump lawyer says president believes Mueller investigation is part of 'witch hunt' – ABC News
---
 mueller – Google News
mueller – Google News: Trump's Lawyer Sekulow: Mueller Investigation Result of Comey 'Leaks' – Newsmax
---
 mueller – Google News
james b. comey – Google News: What Trump Supporters Think of Russia Probes Doesn't Matter – Newsweek
---
 james b. comey – Google News
Links Review 7.16.17
---
7.16.17
Agent Smith and his misadventures: The problems with the FBI and how to fix them (in pics and key words) – Michael Novakhov: My Opinions
7.15.17
No matter how bad it gets for him, here's why Trump isn't getting impeached this year – The Washington Post

German intelligence committee head calls Donald Trump 'a security risk to the Western world' | The Independent

Posts – 7.15.17
Current Events and Topics – July 2017
Agent Smith and his misadventures – 7.16.17
Laughter as FBI Cointelpro Weapon – 7.15.17
The role of Germany in "Trump-Russia scandal" – 7.14.17
Jared Kushner – 7.13.17
Russian mafia, Trump, and Mueller investigation – 7.4.17
Miosotis Familia – 7.5.17
Puerto Rico Marijuana – 7.14.17
7.14.17
Former Soviet Counter Intelligence Officer at Meeting With Donald Trump Jr. and Russian Lawyer – NBC News

Donald Trump's deep connections to dirty Russian money: The trail leads back more than 30 years – Salon.com

Trump's legal team faces tensions — and a client who often takes his own counsel – The Washington Post

Posts – 7.14.17
7.13.17
Posts – 7.13.17
Reading List – 7:26 AM 7/13/2017: Trump, Putin and organized crime – Google News: Trump's Russian Laundromat – New Republic  Eurasia Review: Black Is The New Red: Containing Jihad Analysis  National security figures launch project to counter Russian mischief | Wire Commentary We Now Have Proof of Donald Trumps Russian Collusion  trump russia treason – Google News: This isn't Watergate. This isn't treason. And there's still no smoking gun. – The Week Magazine – Shared Articles
7.12.17
Military Plane Crashes With 16 on Board in Mississippi; 'Most' Bodies Recovered, Official Says – NBC News

Posts – 7.12.17
The Web – My Main News Sites
Michael Novakhov: In My Opinion – The Web World Times – webworldtimes.com: News, Reviews, Analysis, Opinions

The World Web Times-2 (NY T&N)
My Opinions
Blogs
Pages
News Sites: Front Pages
Local: Brooklyn Sites
Broklyn Food
Daily News and Posts – July 2017
7.11.17
FBI's 'G-Man' Image: From Comic Books To 'The X-Files' And 'The Silence Of The Lambs'
---
There's an image that probably comes to mind anytime there are big headlines about the FBI: A lawman in a dark suit, crisp white shirt, sensible shoes and a sharp crew cut. Basically, the exact look James Cagney sported in the 1935 classic film G-Men — except his included a fedora because … the 1930s.
That archetype of the clean-cut, indefatigable and incorruptible agent was largely the invention of J. Edgar Hoover, who led the FBI for 48 years, from May 1924 to May 1972. In addition to his position leading the Department of Justice's top law enforcement unit, Hoover also championed it as a pseudo-Hollywood producer.
The early years of the FBI coincided with the start of the comic book era, which inspired Hoover to take advantage of the new medium. According to Ronald Kessler, author of The Secrets of the FBI, Hoover correctly perceived this was a direct channel to shaping the hearts and minds of young Americans, and that led him to take an active role in creating characters that depicted FBI agents as modern-day knights.
"He realized that he could create these images of the G-Men as superheroes like Superman," said Kessler. They had a brand of their own: "G-Man" stands for "Government Man."
And it worked, Kessler argued — Hoover's foresight, use of comics, radio and movies helped to instill a deep trust in the agency and its mission among a whole new generation.
"That helped him stay in office and also helped the FBI do its work, because if people trust the FBI they're going to be more likely to cooperate and give tips," said Kessler.
Luckily for Hoover, said Kessler, the truth about the infamous FBI director's illegal investigations, instances of possible blackmail and improper espionage against Americans didn't come to light until after his death.
More recently, and without Hoover's guiding hand, Hollywood has suggested that there are special agents devoted to the paranormal — as in an "X-Files" division.
But when pressed if that kind of department exists today or ever did, Kessler delivered an unequivocal and emphatic, "No!"
A second source, however, wasn't so definitive.
Annie Jacobsen, a journalist who covers national security and author of Phenomena: The Secret History of the U.S. Government's Investigations Into Extrasensory Perception and Psychokinesis, believes the FBI must have had a department like the one for which TV's Special Agents Fox Mulder and Dana Scully worked. And it still could.
"My reasoning is that we know there is that department inside the CIA and also inside the Pentagon. And history tells us that this department existed in [the FBI] in the 50s," she said.
Her book is a deep dive into the CIA and Pentagon programs that sought to train people in the arts of mind-reading and moving objects with their minds.
"The FBI always likes to keep up with what's going on in the intelligence community and their partners over at the Pentagon," said Jacobsen. "To imagine that the department went away is sort of less believable."
Then there are the fictionalized representations of the Bureau's profilers, whom audiences love — and network executives love that audiences love them. Perhaps the most famous of these was, technically, a trainee — Clarice Starling, a dogged naif pulled from the FBI Academy and assigned with trying to track down a skin-suit-making serial killer in The Silence of the Lambs.
Funny-not-funny side-note: Clarice, in all of her padded-shoulder glory, would not have been able to go after Buffalo Bill under Hoover's leadership of the FBI. Women were not allowed to become special agents until 1972, after Hoover died and L. Patrick Gray took over. Until then, women at the FBI were relegated to secretarial positions, which, we've learned from Martha on The Americans, could be a difficult workplace for women.
(Martha, if you're reading this, send us a postcard from Russia!)
Obviously, neither Starling nor Scully and Mulder nor even surfer/undercover Agent Johnny Utah will be reporting to Christopher Wray, the man on track to be confirmed by the Senate to take over the FBI after former Director James Comey was fired two months ago. But one man who could be is acting Director Andrew McCabe — who looks like he's straight out of central casting, complete with those horn-rimmed glasses.
In testimony before the Senate Intelligence Committee in May, just days after Comey was sacked by President Trump, McCabe had this to say about the agency: "You cannot stop the men and women of the FBI from doing the right thing, protecting the American people and upholding the Constitution."
Now that's a line worthy of the movies.
Copyright 2017 NPR. To see more, visit <a href="http://www.npr.org/" rel="nofollow">http://www.npr.org/</a>.
Andrew McCabe – Google News: FBI's 'G-Man' Image: From Comic Books To 'The X-Files' And 'The Silence Of The Lambs' – KUNC
---
 Andrew McCabe – Google News
The Adventures Of Agent Smith – Google Search
---
The Adventures Of Agent Smith – Google Search
---