Next Page of Stories
Loading…
Page 2
Next Page of Stories
Loading…
Page 3
Next Page of Stories
Loading…
Page 4
Next Page of Stories
Loading…
Page 5
Laughter as FBI Cointelpro Weapon – GS 
Laughter as FBI Cointelpro Weapon: was that woman an FBI informant or the FBI secret agent on assignment? Does FBI use laughter as a psychological weapon? Investigate the investigators! Send the FOI requests to the FBI on this subject en mass.
"When asked by the prosecutor, Coronado maintained that the laugh was loud and disruptive, but Fairooz said it was simply an involuntary reaction to a ludicrous claim."
I have an "involuntary reaction" to laugh at the FBI's "ludicrous claims", and I will. Prepare the spittoons and the handkerchiefs for the other reactions too. Thank you, fast, furious, considerate, aspiring FBI secret agents! What would we do without you?!
Another option: just laugh at the little nincompoops!
Laughter as FBI Cointelpro Weapon – 7.15.17
"Agent Smith's evil laugh" and misadventures, or what are the problems with the FBI and how it should be reformed.
Agent Smith | The Adventures Of Agent Smith – GS 
Next Page of Stories
Loading…
Page 6
WASHINGTON —After months of delay, the Trump administration is finalizing plans to revamp the nation's military command for defensive and offensive cyber operations in hopes of intensifying America's ability to wage cyber war against the Islamic State group and other foes, according to U.S. officials.
Under the plans, U.S. Cyber Command would eventually be split off from the intelligence-focused National Security Agency.
Details are still being worked out, but officials say they expect a decision and announcement in the coming weeks. The officials weren't authorized to speak publicly on the matter so requested anonymity.
The goal, they said, is to give U.S. Cyber Command more autonomy, freeing it from any constraints that stem from working alongside the NSA, which is responsible for monitoring and collecting telephone, internet and other intelligence data from around the world – a responsibility that can sometimes clash with military operations against enemy forces.
Making cyber an independent military command will put the fight in digital space on the same footing as more traditional realms of battle on land, in the air, at sea and in space. The move reflects the escalating threat of cyberattacks and intrusions from other nation states, terrorist groups and hackers, and comes as the U.S. faces ever-widening fears about Russian hacking following Moscow's efforts to meddle in the 2016 American election.
The U.S. has long operated quietly in cyberspace, using it to collect information, disrupt enemy networks and aid conventional military missions. But as other nations and foes expand their use of cyber-spying and attacks, the U.S. is determined to improve its ability to incorporate cyber operations into its everyday warfighting.
Experts said the command will need time to find its footing."Right now I think it's inevitable, but it's on a very slow glide path," said Jim Lewis, a cybersecurity expert with the Center for Strategic and International Studies. But, he added, "A new entity is not going to be able to duplicate NSA's capabilities."
The NSA, for example, has 300 of the country's leading mathematicians "and a gigantic super computer," Lewis said. "Things like this are hard to duplicate."
He added, however, that over time, the U.S. has increasingly used cyber as a tactical weapon, bolstering the argument for separating it from the NSA.
The two highly secretive organizations, based at Fort Meade, Maryland, have been under the same four-star commander since Cyber Command's creation in 2009.
But the Defense Department has been agitating for a separation, perceiving the NSA and intelligence community as resistant to more aggressive cyberwarfare, particularly after the Islamic State's transformation in recent years from an obscure insurgent force into an organization holding significant territory across Iraq and Syria and with a worldwide recruiting network.
While the military wanted to attack IS networks, intelligence objectives prioritized gathering information from them, according to U.S. officials familiar with the debate. They weren't authorized to discuss internal deliberations publicly and requested anonymity.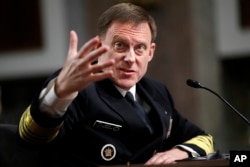 FILE – National Security Agency and U.S. Cyber Command Director Adm. Mike Rogers testifies on Capitol Hill in Washington, May 9, 2017.
Then-defense secretary Ash Carter sent a plan to president Barack Obama last year to make Cyber Command an independent military headquarters and break it away from the NSA, believing that the agency's desire to collect intelligence was at times preventing the military from eliminating IS' ability to raise money, inspire attacks and command its widely dispersed network of fighters.
Carter, at the time, also pushed for the ouster of Adm. Mike Rogers, who still heads both bodies. The Pentagon, he warned, was losing the war in the cyber domain, focusing on cyber threats from nations such as Iran, Russia and China, rather than on countering the communications and propaganda campaigns of internet-savvy insurgents.
Officials also grew alarmed by the growing number of cyberattacks against the U.S. government, including several serious, high-level Defense Department breaches that occurred under Rogers' watch.
"NSA is truly an intelligence-collection organization," said Lauren Fish, a research associate with the Center for a New American Security. "It should be collecting information, writing reports on it. Cyber Command is meant to be an organization that uses tools to have military operational effect."
After President Donald Trump's inauguration, officials said Defense Secretary Jim Mattis endorsed much of the plan. But debate over details has dragged on for months.
It's unclear how fast the Cyber Command will break off on its own. Some officials believe the new command isn't battle-ready, given its current reliance on the NSA's expertise, staff and equipment. That effort will require the department to continue to attract and retain cyber experts.
Cyber Command was created in 2009 by the Obama administration to address threats of cyber espionage and other attacks. It was set up as a sub-unit under U.S. Strategic Command to coordinate the Pentagon's ability to conduct cyberwarfare and to defend its own networks, including those that are used by combat forces in battle.
Officials originally said the new cyber effort would likely involve hundreds, rather than thousands, of new employees.
Since then, the command has grown to more than 700 military and civilian employees. The military services also have their own cyber units, with a goal of having 133 fully operational teams with as many as 6,200 personnel.
Its proposed budget for next year is $647 million. Rogers told Congress in May that represents a 16 percent increase over this year's budget to cover costs associated with building the cyber force, fighting IS and becoming an independent command.
Under the new plan being forwarded by the Pentagon to the White House, officials said Army Lt. Gen. William Mayville would be nominated to lead Cyber Command. Leadership of the NSA could be turned over to a civilian.
Mayville is currently the director of the military's joint staff and has extensive experience as a combat-hardened commander. He deployed to both Iraq and Afghanistan, leading the 173rd Airborne Brigade when it made its assault into Iraq in March 2003 and later heading coalition operations in eastern Afghanistan.
Read the whole story
· · · ·
Donald Trump during a speech in 2016. (Animation from video.)
We quickly lose sight of how exceptional the bizarre moments of the past six months have been. It would have seemed ludicrous one week ago that we'd be sitting here today holding an email in which Donald Trump Jr. cops to seeking out negative information about Hillary Clinton from someone he believed was a Russian government official. Yet here we are.
Trump's base of support has already appeared to brush aside the obvious demonstration of a willingness to collude in the transfer of information that was "part of Russia and its government's support for Mr. Trump," as the first email to Trump Jr. read. President Trump once said that he could shoot someone dead in the middle of Fifth Avenue and not lose any support. That no longer seems much like hyperbole.
Trump: 'Most people would have taken that meeting'
President Trump spoke at a news conference in Paris on July 13 and defended Donald Trump Jr.'s meeting with a Russian lawyer. President Trump spoke at a news conference in Paris on July 13 and defended Donald Trump Jr.'s meeting with a Russian lawyer. (The Washington Post)
President Trump spoke at a news conference in Paris on July 13 and defended Donald Trump Jr.'s meeting with a Russian lawyer. (The Washington Post)
Still, others will note, it's not as if Trump is popular. His approval rating remains mired in the low-40s, with most Americans viewing his job performance negatively. Doesn't that alone mean that, if some other significant revelation occurs over the next seven days, Trump's position must surely grow wobblier?
Nope. Despite a Democratic member of the House initiating the process to remove Trump from office, there's almost no chance at all that the president would be impeached this year, no matter what happens.
Why? Politics. Impeachment takes the form of a trial, but it isn't one. It's a political vote by politicians, all of whom would like to themselves avoid the fate of being thrown out of office. And Trump's political career both relied on and thrives because of the nature of the moment that he launched it.
Let's go back to those approval ratings. Here are the average ratings by party for each day on which a poll was conducted for the first six months or so of Trump's presidency (via Huffington Post Pollster).
There's been a distinct downward trend, both among all voters and in Trump's base, members of the Republican Party. But the drop-off hasn't been all that steep; he's polling about seven or eight points lower now than he did in January, with a similar decline among Republicans. It varies by pollster and methodology, as you might expect.
As we've noted before, though, the only number that really matters is that approval rating among Republicans, for reasons we'll get into below. If your job depended largely on majority approval from a group of 10 of your peers, you probably wouldn't start updating your résumé just because you went from having nine of them love you to only eight.
Let's dive in a little by looking at the numbers from Gallup. The weekly average of approval ratings for Trump by party looks like this. In Gallup's numbers, he's down seven points from his January polling among all voters — and down only four with Republicans.
But there's a critically important split in those Republican opinions. Conservative Republicans are muchmore likely to view Trump positively. With that group, he's consistently been at around 90 percent approval.
Remember, we noted that impeachment is a political process. It requires having members of the House pass articles of impeachment that then go to the Senate where punishment is determined. And every single one of those 435 members of the House have to face their own constituents next year in an effort to keep their jobs. Most (but certainly not all) will face challengers from within their own parties who they'll need to defeat in primaries in order to be on the ballot in November.
And that is why Trump isn't going anywhere any time soon.
In 2014, Pew Research Center looked at the composition of the primary electorate. It found that in the 2010 and 2014 off-year elections, the people who came out to vote in the Republican primaries were much more conservative than Republican voters overall. In 2010, the voting pool was 12 points more likely to espouse consistent conservative views on policy issues than Republican Party voters overall. Three years ago, the voting pool was 11 points more conservative.
To break it down explicitly: Republicans control the House, so nothing's passing there without their support. Republican House members are all up for reelection next year. To get on the ballot in November, they need to win their primaries. Their primary fights will be against other Republicans (in most states), and be determined by the most conservative voters in their party.
And those conservative Republicans have a 90 percent approval rating for President Trump, even after all of the things that have emerged over the last six months.
Those hoping for a Trump impeachment, then, might wonder what happens after the primaries. After all, it's not a coincidence that Richard Nixon resigned in August of 1974, after his party's primaries that year — and after a visit to his office from congressional leaders who warned that his support on Capitol Hill had collapsed. Part of the concern, clearly, was that Nixon's unpopularity was going to lead to a bruising defeat for House Republicans that November.
That may be a concern for House Speaker Paul D. Ryan next year, too, but there are two big differences. First, Republicans have a very healthy margin in the House that would allow them to lose more than 20 seats while still maintaining a majority. Second, there are a lot fewer close House races now than there were then — a function of a lot of things including population sorting and gerrymandering.
politics
politics
Orlando Shooting Updates
News and analysis on the deadliest mass shooting in U.S. history.
post_newsletter348
follow-orlando
true
endOfArticle
false
Local Politics Alerts
Breaking news about local government in D.C., Md., Va.
true
The story must be told.
Your subscription supports journalism that matters.
In 1974, the winners of 90 House seats were settled by margins of 10 points or less (including the Republican minority leader in the House who'd met with Nixon). In 2016, it was a third of that.
In 2016, only 15 Republicans were elected with margins of under 10 points.
To put a fine point on it: Far fewer House Republicans are dependent on cobbling together support from voters outside of their party in order to win reelection. And since the most fervent supporters within their party stand strongly behind Trump, that may offer them all of the political cover they'd seek.
Theoretically, something else could emerge that would cause Trump's support from those Republicans to crumble. But it's very, very hard to imagine what that might be.
Read the whole story
· · · · · · · ·
Source: Democrats Push Probe Into Trump, Deutsche Bank and Russia – TheStreet
 Saved Stories – None
WASHINGTON (AP) — The Russian-American lobbyist who attended a meeting at Trump Tower last year is a former military officer long shadowed by allegations of connections to Russian intelligence….
 AP Top News at 3:58 p.m. EDT
Next Page of Stories
Loading…
Page 7
Next Page of Stories
Loading…
Page 8
Next Page of Stories
Loading…
Page 9
Next Page of Stories
Loading…
Page 10
Jared Kushner – Google Search Thursday July 13th, 2017 at 8:53 AM 1 Share All Roads Now Lead to Kushner New York Times–5 hours ago Jared Kushner at the White House in May. Credit Doug Mills/The New York Times. For a year, the refrain from the Trump camp has been a … Jared Kushner is under fire as all eyes turn … 
Continue reading

 "All Roads Now Lead to Kushner – New York Times-5 hours ago"
Sign Up for
Our free email newsletters
There once was a shepherd boy who was bored as he sat on the hillside watching the village sheep. To amuse himself he took a great breath and sang out, "Wolf! Wolf! The Wolf is chasing the sheep!"
The unflagging tedium of the Trump-Russia-Manafort-Guccifer 2.0-Kushner-Page-Comey-Flynn-Steele-Stone-Lavrov-Mueller-WikiLeaks-Fancy Bear-­Intercept-CIA-FBI-NSA-BBC-Don Jr. saga refuses to go away. Every day there are new breathless reports, fresh for-initiates-only micro-revelations that inspire screeches of "Treason!"
But there is still no smoking gun.
Now hold on, you may be rage-typing. What about his emails? You know, those emails in which Donald Trump Jr. was promised "official documents and information that would incriminate Hillary and her dealings with Russia and would be very useful" to his father; those emails about "very high-level and sensitive information" that "is part of Russia and its government's support for Mr. Trump"; those emails in which Trump Jr. gleefully replied, "If it's what you say I love it."
To which I say: This is still not a smoking gun.
This is hardly the first This is it moment the media has begged us to acknowledge. Please remember that a year ago we were expected to believe that Donald Trump had committed treason by begging the Russian government to hack Hillary Clinton's emails live on cable television, before an audience of millions. We all know that this is exactly how espionage works and that there is no way that the smiling ex-reality television show host was making a joke about the actual documented collusion between the former secretary of state's campaign and the Democratic National Committee, which marshaled their forces against an honest public servant who could arguably have beaten Trump in a general election if the primary had not been rigged.
And so it has continued, uninterrupted without so much as a hint of self-reproach or critical reflection, and so it will continue, presumably, "from day to day / To the last syllable of recorded time," in saecula saeculorum. One week James Comey is a selfless hero for not giving in to febrile right-wing pressure groups and conspiracy theorists by recommending charges over Hillary Clinton's use of a private email server to conduct official State Department business; a few months later he is a conservabro villain doing his team a solid by speaking publicly about the FBI's ongoing investigation of Clinton's email use; fast forward to a few weeks ago, and he is a dauntless profile in courage because he wrote down things that the president said to him. It's one thing after another, and no one seems to be tired of it.
Today we are supposed to mouth along because Don Jr., who is not as dumb as he looks (which is not, I realize, setting the bar very high), tweeted screenshots of his Nigerian-prince-like email exchanges with a poseur who pretended in the loosest possible sense to represent the interests of the Russian government. The emails led to a meeting that went nowhere. Knock me over with a feather.
These gaspingly reported revelations about the Trumps will make you furious if you want them to. They may make you squirm if you have suddenly decided that the unfettered operation of our intelligence services is extremely important now even if it used to be boring when Jeb Bush released 40-page white papers on the subject and you tweeted about turtles instead. They may confirm your belief that the Trumps are traitors. But none of this new information offers any actual direct evidence that President Trump knowingly or otherwise colluded or in any sense partnered with Vladimir Putin or the Russian government to secure his election as president of the United States.
And really: Is anything that we actually know today about Trump and Russia worse than what we knew last year about Hillary Clinton?
Here was a presidential candidate whose husband, a former president, runs an international pseudo-charity that keeps him on a never-ending series of private jet flights to an equally interminable number of luxury hotels in exotic locales — a gruesome neoliberal shakedown machine with metal tentacles sunk into the bank accounts of shady businessmen and tinpot dictators the whole world round. An infinite number of grasping conflict-of-interest stories could have been written about the Clinton Foundation, and many were. But they didn't matter nearly as much as TRUMP AND RUSSIA.
Which brings us to what all this is really about: the 2016 election, which will not end until its successor in 2020 formally begins, something I expect by the end of the year, if it hasn't already happened yet. Russia did not swing the election to Trump. He won because Americans, including hundreds of thousands who had voted for President Obama eight years previously, thought he was a more compelling candidate than Clinton. Trump did a better job speaking the language of solidarity to the working class. Get over it, and pick a better candidate next time.
Read the whole story
· · ·
The German Marshall Fund of the United States (GMF) is a nonpartisan American public policy think tank and grantmaking institution dedicated to promoting cooperation and understanding between North America and Europe.
Founded in 1972 through a gift from the West German government on the 25th anniversary of the Marshall Plan, GMF contributes research and analysis on transatlantic and global issues; convenes policy and business leaders at international conferences; provides exchange opportunities for emerging American and European leaders; and supports initiatives to strengthen democracies.[1] GMF focuses on policy, leadership, and civil society.[2]
In addition to its headquarters in Washington, D.C., GMF has offices in several European cities.[1]
Finding out what happened in the United States in 2016 and the impact it had is important. But that is not enough. The U.S. intelligence community assessed in January 2017 that "Moscow will apply lessons learned from its Putin-ordered campaign aimed at the U.S. presidential election to future influence efforts worldwide, including against U.S. allies and their election processes." Russia's efforts are also ongoing across Europe — and we also need to prepare for other state actors to replicate Putin's tactics. Moreover, Putin does not distinguish between political parties, but rather seeks to sow and exploit divisions. When our democratic institutions are weakened, every party and democratic nation is at risk.
Meeting this challenge to our democracy demands that Republicans and Democrats in the United States unite with our democratic allies around the world to better understand Russia's multifaceted aggression in order to defend ourselves and our democratic partners, and deter such activity in the future.
The Alliance for Securing Democracy, a bipartisan, transatlantic initiative housed at The German Marshall Fund of the United States (GMF), will develop comprehensive strategies to defend against, deter, and raise the costs on Russian and other state actors' efforts to undermine democracy and democratic institutions. The Alliance will work to publicly document and expose Vladimir Putin's ongoing efforts to subvert democracy in the United States and Europe.
Read our Full Mission Statement
Donate
Washington Post
–
Jul 11, 2017
The roster of figures who have signed onto the new project, called the Alliance for Securing Democracy, is a who's who of former senior …
Washington Post
–
3 hours ago
Earlier this week, in fact, the Alliance for Securing Democracy, a new effort headed by former U.S. national security officials, formed as a …
Columbia Journalism Review
–
Jul 11, 2017
The Alliance's statement on Monday said it was seeking an … Alliance, said in the statement: "Quality journalism is critical to sustaining democracy … If the News Media Alliance is successful in securing a rarely granted right to …
Next Page of Stories
Loading…
Page 11
Jared Kushner. Jonathan Ernst/Reuters
All eyes are on Jared Kushner as the fallout from Donald Trump Jr.'s email disclosure continues.
Kushner is the only current White House staffer who was present for a June 2016 meeting with a Russian lawyer, ahead of which Trump Jr. was promised dirt on Hillary Clinton that he claimed was never presented.
On Tuesday, Trump Jr. posted emails that were sent to him, Kushner, and Donald Trump's campaign chairman at the time, Paul Manafort, setting up that meeting. And now Democrats and Republicans are questioning why Kushner still has a security clearance.
The deputy White House press secretary, Sarah Huckabee Sanders, did not tell reporters at Wednesday's off-camera briefing whether Kushner still held that clearance, saying Democrats "are trying to play political games" by calling for it to be revoked.
It's not the first time Kushner's security clearance has come under question.
Kushner had to revise his security clearance form after he failed to disclose meetings with the Russian ambassador to the US and a Russian banker, which in turn led to The New York Times' discovery of the Trump Tower meeting involving Trump Jr., Kushner, Manafort, and the Russian lawyer. Additionally, the House and Senate intelligence committees and Department of Justice investigators are looking into whether the Kushner-led Trump campaign digital operation assisted Russia's attacks on Clinton during the 2016 election cycle.
Though the Russian lawyer, Natalia Veselnitskaya, told NBC News that Kushner "left the meeting after seven to 10 minutes of the 20- to 30-minute meeting," these incidents — with the Trump Jr. meeting now at center stage — have led to calls for Kushner to be stripped of the clearance.
Trump Jr.'s "preemptive release of the emails that led to the meeting with the Russian operative puts Jared Kushner in legal peril," Rick Tyler, the communications director for Republican Sen. Ted Cruz's 2016 presidential campaign who is now an MSNBC contributor, told Business Insider in an email. "He has consistently failed to make mandatory discloses of meetings with foreign nationals including this one which is a felony."
"Jared should, at a minimum, have his clearances rescinded making his utility as an advisor, which itself is suspect, impractical," he continued.
The email disclosure revealed that Kushner was copied on Trump Jr.'s email chain with Rob Goldstone, a British music publicist who represented a Russian pop star with ties to the elder Trump and was tasked with arranging the June meeting. That email chain was titled "Russia — Clinton — private and confidential" and said a Russian official had "offered to provide the Trump campaign with some official documents and information that would incriminate Hillary and her dealings with Russia and would be very useful to" Trump.
Spencer Platt/Getty Images
Goldstone described the information as being "part of Russia and its government's support for Mr. Trump," something that prompted Trump Jr. to respond, "If it's what you say I love it especially later in the summer."
The fact that Kushner had the email chain available to him seemed to contradict an earlier statement from Trump Jr., who said over the weekend that Kushner and Manafort were told "nothing of the substance" of the meeting when he asked them to attend.
"Mr. Kushner's decision to take this meeting raises significant questions about his judgment and his respect for the very principles that our democracy was founded on — that our elections should be sacred and free of interference from a foreign adversary," Rep. Elijah Cummings, the ranking Democratic member of the House oversight committee, told Business Insider in an email.
"His reported failure to disclose this meeting — and numerous others with Russians — when he submitted his security clearance application compounds the problem and is deeply concerning."
Cummings, a Maryland Democrat, sent a letter to Trump Jr., Kushner, and Manafort on Tuesday requesting all of the trio's documents and communications related to the June meeting with Veselnitskaya, contacts with Russians during the campaign and transition, and Kushner's security-clearance application and reporting of foreign contacts, travel, and meetings. That followed a letter last month from the Democratic members of the committee to the White House chief of staff, Reince Priebus, requesting documents related to the decision to allow Kushner to keep his clearance after it became public knowledge that he failed to disclose the meetings with Russian officials.
"If the White House was following its own rules regarding security clearances, it would have already suspended Mr. Kushner's clearance pending a full investigation," Cummings told Business Insider, additionally calling for the House oversight committee chairman, Trey Gowdy, a South Carolina Republican, to seek answers from the Trump team.
Still, some feel that Kushner's presence at the meeting will not imperil his status or set him back in any way at the White House.
"I don't believe it will have any effect on his role," attorney and Harvard law professor emeritus Alan Dershowitz told Business Insider in an email.
But for Kushner, whom The Times reported Tuesday night was at odds with Trump's top outside counsel in the Russia matter, the story doesn't appear to be going away soon.
"Whether we believe Trump's Jr.'s claim that Kushner did not know the meeting's purpose beforehand is immaterial," Democratic Rep. Don Beyer of Virginia said in a statement. "The fact that Jared Kushner initially omitted this meeting from his [security clearance form], and only disclosed it after coming under considerable scrutiny, implies that he knew something untoward had happened."
"Kushner should not be permitted access to classified material, he should not be empowered to conduct official business on behalf of the American people, and he should not be allowed to continue in any capacity as a counselor to the president," Beyer later added. "He has irrevocably betrayed the public trust. Jared Kushner must resign. If he will not, he should be fired."
Read the whole story
· · · · · ·
McClatchy Washington Bureau
–
Jul 12, 2017
Investigators at the House and Senate Intelligence committees and the Justice Department are examining whether the Trump campaign's …
New York Times
–
5 hours ago
Jared Kushner at the White House in May. Credit Doug Mills/The New York Times. For a year, the refrain from the Trump camp has been a …
Read the whole story
· · ·
Chicago Tribune
–
22 hours ago
… the Trump campaign's digital operation — overseen by Jared Kushner — helped guide Russia's sophisticated voter targeting and fake news …
Read the whole story
· · ·
Foreign Policy (blog)
–
Jul 11, 2017
SitRep: Bannon and Kushner's Afghanistan Plan; Iran Claims Victory … suffering a crippling 40 percent casualty rate during the fight for Mosul.".
The Russia scandal has implicated Kushner in ways that make him especially vulnerable, however, and Bannon appears to be filling the …
Next Page of Stories
Loading…
Page 12
In 1960, the Kremlin made a similar offer to support the candidacy of John F. Kennedy against Richard Nixon, but the Kennedy campaign rebuffed it. Likewise, when the Al Gore campaign in 2000 received confidential materials relating to the George W. Bush campaign, it called the F.B.I.
Trump Jr. didn't call the F.B.I.; instead, he responded, "I love it." He apparently arranged a phone call to discuss the material (we don't know that the call happened or, if it did, its content), and then set up a meeting for him, Kushner and campaign chairman Paul Manafort to meet with a person described in the emails as a "Russian government attorney."
In other words, informed of a secret Kremlin effort to use highly sensitive information about a former secretary of state (presumably obtained by espionage, for how else?) to manipulate an American election, Trump Jr. signaled, "We're in!"
"This was an attempt at collusion," noted Senator Ron Wyden of Oregon. It may or may not have amounted to a felony, for soliciting a foreigner to contribute something "of value" in connection with an American election. The Predict-It betting website now lists gambling odds about whether Trump Jr. will be indicted.
The Trumps' defense is that the meeting was a "nothingburger" with no follow-up. That would be more compelling if the Trumps hadn't previously denied at least 20 times that such a meeting had ever taken place. Their credibility is in tatters.
Crucially, this is bigger than Donald Trump Jr.
The Trumps insist that the president himself was unaware of the Russian offer. Yet the day after Trump Jr. received the first email and presumably had his phone conversation about the supposedly incriminating material, his father promised to give "a major speech" in which "we're going to be discussing all of the things that have taken place with the Clintons. I think you're going to find it very informative and very, very interesting."
That speech targeting Hillary Clinton didn't take place. But on June 15, the first leak of stolen Democratic materials did.
Then there's Kushner. Trump Jr. forwarded the emails to Kushner, whose response was to attend the meeting, although he apparently left within 10 minutes. Kushner later neglected to report the meeting and others with Russians on his SF-86 forms to receive national security clearance (intentional omission is a felony).
The meeting gave the Kremlin potential blackmail material against the Trumps, and thus possibly leverage over them.
In addition, McClatchy reports that investigators in Congress and the Justice Department are exploring whether the Trump campaign digital operation — supervised by Kushner — helped guide Russia's remarkably sophisticated efforts to use internet bots to target voters with fake news attacking Hillary Clinton.
Then there was the extraordinary initiative by Kushner in the transition period to set up the secret communications channel. There's no indication that the channel was actually established, and the assumption has been that the communications would have required visits to Russian consulates — which would be bizarre.
But Barton Gellman, a careful national security writer, has another theory. He notes that James Comey, the ousted F.B.I. director, in testimony to Congress referred to the risk that this channel could "capture all of your conversations." Gellman suggests that this may mean that Kushner sought mobile Russian scrambling equipment to take to Trump Tower.
Look, this is a murky, complicated issue. But this much we know: Kushner attended a secret meeting whose stated purpose was to advance a Kremlin effort to interfere in the U.S. election, he then failed to report it, and finally he sought a secret channel to communicate with the Kremlin.
One next step is clear: Take away Jared Kushner's security clearance immediately.
Read the whole story
· · ·
PBS NewsHour
–
Jul 11, 2017
House Intelligence Committee Ranking Member Rep. Adam Schiff speaks to reporters on Capitol Hill in Washington, U.S. May 17, 2017. Credit: …
7.13.17 Trump's Russian Laundromat | New Republic Black Is The New Red: Containing Jihad – Analysis – Eurasia Review Investigators look for links between Trump, Russia cyber operations | McClatchy Washington Bureau We Now Have Proof of Donald Trump's Russian Collusion | Observer National security figures launch project to counter Russian mischief | Wire Commentary … 
Continue reading

 "Daily News and Posts – 7:52 AM 7/13/2017"
Over the years, Trump and his sons would try and fail five times to build a new Trump Tower in Moscow. But for Trump, what mattered most were the lucrative connections he had begun to make with the Kremlin—and with the wealthy Russians who would buy so many of his properties in the years to come. "Russians make up a pretty disproportionate cross section of a lot of our assets," Donald Trump Jr. boasted at a real estate conference in 2008. "We see a lot of money pouring in from Russia."
The money, illicit and otherwise, began to rain in earnest after the Soviet Union fell in 1991. President Boris Yeltsin's shift to a market economy was so abrupt that cash-rich gangsters and corrupt government officials were able to privatize and loot state-held assets in oil, coal, minerals, and banking. Yeltsin himself, in fact, would later describe Russia as "the biggest mafia state in the world." After Vladimir Putin succeeded Yeltsin as president, Russian intelligence effectively joined forces with the country's mobsters and oligarchs, allowing them to operate freely as long as they strengthen Putin's power and serve his personal financial interests. According to James Henry, a former chief economist at McKinsey & Company who consulted on the Panama Papers, some $1.3 trillion in illicit capital has poured out of Russia since the 1990s.
At the top of the sprawling criminal enterprise was Semion Mogilevich. Beginning in the early 1980s, according to the FBI, the short, squat Ukrainian was the key money-laundering contact for the Solntsevskaya Bratva, or Brotherhood, one of the richest criminal syndicates in the world. Before long, he was running a multibillion-dollar worldwide racket of his own. Mogilevich wasn't feared because he was the most violent gangster, but because he was reputedly the smartest. The FBI has credited the "brainy don," who holds a degree in economics from Lviv University, with a staggering range of crimes. He ran drug trafficking and prostitution rings on an international scale; in one characteristic deal, he bought a bankrupt airline to ship heroin from Southeast Asia into Europe. He used a jewelry business in Moscow and Budapest as a front for art that Russian gangsters stole from museums, churches, and synagogues all over Europe. He has also been accused of selling some $20 million in stolen weapons, including ground-to-air missiles and armored troop carriers, to Iran. "He uses this wealth and power to not only further his criminal enterprises," the FBI says, "but to influence governments and their economies."
In Russia, Mogilevich's influence reportedly reaches all the way to the top. In 2005, Alexander Litvinenko, a Russian intelligence agent who defected to London, recorded an interview with investigators detailing his inside knowledge of the Kremlin's ties to organized crime. "Mogilevich," he said in broken English, "have good relationship with Putin since 1994 or 1993." A year later Litvinenko was dead, apparently poisoned by agents of the Kremlin.
Mogilevich's greatest talent, the one that places him at the top of the Russian mob, is finding creative ways to cleanse dirty cash. According to the FBI, he has laundered money through more than 100 front companies around the world, and held bank accounts in at least 27 countries. And in 1991, he made a move that led directly to Trump Tower. That year, the FBI says, Mogilevich paid a Russian judge to spring a fellow mob boss, Vyachelsav Kirillovich Ivankov, from a Siberian gulag. If Mogilevich was the brains, Ivankov was the enforcer—a vor v zakone, or "made man," infamous for torturing his victims and boasting about the murders he had arranged. Sprung by Mogilevich, Ivankov made the most of his freedom. In 1992, a year after he was released from prison, he headed to New York on an illegal business visa and proceeded to set up shop in Brighton Beach.
In Red Mafiya, his book about the rise of the Russian mob in America, investigative reporter Robert I. Friedman documented how Ivankov organized a lurid and violent underworld of tattooed gangsters. When Ivankov touched down at JFK, Friedman reported, he was met by a fellow vor, who handed him a suitcase with $1.5 million in cash. Over the next three years, Ivankov oversaw the mob's growth from a local extortion racket to a multibillion-dollar criminal enterprise. According to the FBI, he recruited two "combat brigades" of Special Forces veterans from the Soviet war in Afghanistan to run the mafia's protection racket and kill his enemies.
Like Mogilevich, Ivankov had a lot of dirty money he needed to clean up. He bought a Rolls-Royce dealership that was used, according to The New York Times, "as a front to launder criminal proceeds." The FBI concluded that one of Ivankov's partners in the operation was Felix Komarov, an upscale art dealer who lived in Trump Plaza on Third Avenue. Komarov, who was not charged in the case, called the allegations baseless. He acknowledged that he had frequent phone conversations with Ivankov, but insisted the exchanges were innocent. "I had no reason not to call him," Komarov told a reporter.
Trump Taj Mahal paid the largest fine ever levied against a casino for having "willfully violated" anti-money-laundering rules.
The feds wanted to arrest Ivankov, but he kept vanishing. "He was like a ghost to the FBI," one agent recalls. Agents spotted him meeting with other Russian crime figures in Miami, Los Angeles, Boston, and Toronto. They also found he made frequent visits to Trump Taj Mahal in Atlantic City, which mobsters routinely used to launder huge sums of money. In 2015, the Taj Mahal was fined $10 million—the highest penalty ever levied by the feds against a casino—and admitted to having "willfully violated" anti-money-laundering regulations for years.
The FBI also struggled to figure out where Ivankov lived. "We were looking around, looking around, looking around," James Moody, chief of the bureau's organized crime section, told Friedman. "We had to go out and really beat the bushes. And then we found out that he was living in a luxury condo in Trump Tower."
There is no evidence that Trump knew Ivankov personally, even if they were neighbors. But the fact that a top Russian mafia boss lived and worked in Trump's own building indicates just how much high-level Russian mobsters came to view the future president's properties as a home away from home. In 2009, after being extradited to Russia to face murder charges, Ivankov was gunned down in a sniper attack on the streets of Moscow. According to The Moscow Times, his funeral was a media spectacle in Russia, attracting "1,000 people wearing black leather jackets, sunglasses, and gold chains," along with dozens of giant wreaths from the various brotherhoods.
---
Throughout the 1990s, untold millions from the former Soviet Union flowed into Trump's luxury developments and Atlantic City casinos. But all the money wasn't enough to save Trump from his own failings as a businessman. He owed $4 billion to more than 70 banks, with a mind-boggling $800 million of it personally guaranteed. He spent much of the decade mired in litigation, filing for multiple bankruptcies and scrambling to survive. For most developers, the situation would have spelled financial ruin. But fortunately for Trump, his own economic crisis coincided with one in Russia.
In 1998, Russia defaulted on $40 billion in debt, causing the ruble to plummet and Russian banks to close. The ensuing financial panic sent the country's oligarchs and mobsters scrambling to find a safe place to put their money. That October, just two months after the Russian economy went into a tailspin, Trump broke ground on his biggest project yet. Rising to 72 stories in midtown Manhattan, Trump World Tower would be the tallest residential building on the planet. Construction got underway in 1999—just as Trump was preparing his first run for the presidency on the Reform Party ticket— and concluded in 2001. As Bloomberg Businessweek reported earlier this year, it wasn't long before one-third of the units on the tower's priciest floors had been snatched up—either by individual buyers from the former Soviet Union, or by limited liability companies connected to Russia. "We had big buyers from Russia and Ukraine and Kazakhstan," sales agent Debra Stotts told Bloomberg.
Among the new tenants was Eduard Nektalov, a diamond dealer from Uzbekistan. Nektalov, who was being investigated by a Treasury Department task force for mob-connected money laundering, bought a condo on the seventy-ninth floor, directly below Trump's future campaign manager, Kellyanne Conway. A month later he sold his unit for a $500,000 profit. The following year, after rumors circulated that Nektalov was cooperating with federal investigators, he was shot down on Sixth Avenue.
Trump had found his market. After Trump World Tower opened, Sotheby's International Realty teamed up with a Russian real estate company to make a big sales push for the property in Russia. The "tower full of oligarchs," as Bloomberg called it, became a model for Trump's projects going forward. All he needed to do, it seemed, was slap the Trump name on a big building, and high-dollar customers from Russia and the former Soviet republics were guaranteed to come rushing in. Dolly Lenz, a New York real estate broker, told USA Today that she sold some 65 units in Trump World Tower to Russians. "I had contacts in Moscow looking to invest in the United States," Lenz said. "They all wanted to meet Donald."
To capitalize on his new business model, Trump struck a deal with a Florida developer to attach his name to six high-rises in Sunny Isles, just outside Miami. Without having to put up a dime of his own money, Trump would receive a cut of the profits. "Russians love the Trump brand," Gil Dezer, the Sunny Isles developer, told Bloomberg. A local broker told The Washington Post that one-third of the 500 apartments he'd sold went to "Russian-speakers." So many bought the Trump-branded apartments, in fact, that the area became known as "Little Moscow."
Many of the units were sold by a native of Uzbekistan who had immigrated from the Soviet Union in the 1980s; her business was so brisk that she soon began bringing Russian tour groups to Sunny Isles to view the properties. According to a Reuters investigation in March, at least 63 buyers with Russian addresses or passports spent $98 million on Trump's properties in south Florida. What's more, another one-third of the units—more than 700 in all—were bought by shadowy shell companies that concealed the true owners.
Trump promoted and celebrated the properties. His organization continues to advertise the units; in 2011, when they first turned a profit, he attended a ceremonial mortgage-burning in Sunny Isles to toast their success. Last October, an investigation by the Miami Herald found that at least 13 buyers in the Florida complex have been the target of government investigations, either personally or through their companies, including "members of a Russian-American organized crime group." Two buyers in Sunny Isles, Anatoly Golubchik and Michael Sall, were convicted for taking part in a massive international gambling and money-laundering syndicate that was run out of Trump Tower in New York. The ring, according to the FBI, was operating under the protection of the Russian mafia.
---
The influx of Russian money did more than save Trump's business from ruin—it set the stage for the next phase of his career. By 2004, to the outside world, it appeared that Trump was back on top after his failures in Atlantic City. That January, flush with the appearance of success, Trump launched his newly burnished brand into another medium.
"My name's Donald Trump," he declared in his opening narration for The Apprentice, "the largest real estate developer in New York. I own buildings all over the place. Model agencies. The Miss Universe pageant. Jetliners, golf courses, casinos, and private resorts like Mar-a-Lago, one of the most spectacular estates anywhere in the world."
But it wouldn't be Trump without a better story than that. "It wasn't always so easy," he confessed, over images of him cruising around New York in a stretch limo. "About 13 years ago, I was seriously in trouble. I was billions of dollars in debt. But I fought back, and I won. Big league. I used my brain. I used my negotiating skills. And I worked it all out. Now my company's bigger than it ever was and stronger than it ever was.… I've mastered the art of the deal."
The show, which reportedly paid Trump up to $3 million per episode, instantly revived his career. "The Apprentice turned Trump from a blowhard Richie Rich who had just gone through his most difficult decade into an unlikely symbol of straight talk, an evangelist for the American gospel of success, a decider who insisted on standards in a country that had somehow slipped into handing out trophies for just showing up," journalists Michael Kranish and Marc Fisher observe in their book Trump Revealed. "Above all, Apprentice sold an image of the host-boss as supremely competent and confident, dispensing his authority and getting immediate results. The analogy to politics was palpable."
Russians spent at least $98 million on Trump's properties in Florida—and another third of the units were bought by shadowy shell companies.
But the story of Donald Trump, self-made business genius, left out any mention of the shady Russian investors who had done so much to make his comeback narrative possible. And Trump's business, despite the hype, was hardly "stronger than it ever was"—his credit was still lousy, and two more of his prized properties in Atlantic City would soon fall into bankruptcy, even as his ratings soared.
To further enhance his brand, Trump used his prime-time perch to unveil another big project. On the 2006 season finale of The Apprentice, as 11 million viewers waited to learn which of the two finalists was going to be fired, Trump prolonged the suspense by cutting to a promotional video for his latest venture. "Located in the center of Manhattan's chic artist enclave, the Trump International Hotel and Tower in SoHo is the site of my latest development," he narrated over swooping helicopter footage of lower Manhattan. The new building, he added, would be nothing less than a "$370 million work of art … an awe-inspiring masterpiece."
Trump SoHo was the brainchild of two development companies—Bayrock Group LLC and the Sapir Organization—run by a pair of wealthy émigrés from the former Soviet Union who had done business with some of Russia's richest and most notorious oligarchs. Together, their firms made Trump an offer he couldn't refuse: The developers would finance and build Trump SoHo themselves. In return for lending his name to the project, Trump would get 18 percent of the profits—without putting up any of his own money.
One of the developers, Tamir Sapir, had followed an unlikely path to riches. After emigrating from the Soviet Union in the 1970s, he had started out driving a cab in New York City and ended up a billionaire living in Trump Tower. His big break came when he co-founded a company that sold high-tech electronics. According to the FBI, Sapir's partner in the firm was a "member or associate" of Ivankov's mob in Brighton Beach. No charges were ever filed, and Sapir denied having any mob ties. "It didn't happen," he told The New York Times. "Everything was done in the most legitimate way."
Trump, who described Sapir as a "great friend," bought 200 televisions from his electronics company. In 2007, he hosted the wedding of Sapir's daughter at Mar-a-Lago, and later attended her infant son's bris.
Sapir also introduced Trump to Tevfik Arif, his partner in the Trump SoHo deal. On paper, at least, Arif was another heartwarming immigrant success story. He had graduated from the Moscow Institute of Trade and Economics and worked as a Soviet trade and commerce official for 17 years before moving to New York and founding Bayrock. Practically overnight, Arif became a wildly successful developer in Brooklyn. In 2002, after meeting Trump, he moved Bayrock's offices to Trump Tower, where he and his staff of Russian émigrés set up shop on the twenty-fourth floor.
Trump worked closely with Bayrock on real estate ventures in Russia, Ukraine, and Poland. "Bayrock knew the investors," he later testified. Arif "brought the people up from Moscow to meet with me." He boasted about the deal he was getting: Arif was offering him a 20 to 25 percent cut on his overseas projects, he said, not to mention management fees. "It was almost like mass production of a car," Trump testified.
But Bayrock and its deals quickly became mired in controversy. Forbes and other publications reportedthat the company was financed by a notoriously corrupt group of oligarchs known as The Trio. In 2010, Arif was arrested by Turkish prosecutors and charged with setting up a prostitution ring after he was found aboard a boat—chartered by one of The Trio—with nine young women, two of whom were 16 years old. The women reportedly refused to talk, and Arif was acquitted. According to a lawsuit filed that same year by two former Bayrock executives, Arif started the firm "backed by oligarchs and money they stole from the Russian people." In addition, the suit alleges, Bayrock "was substantially and covertly mob-owned and operated." The company's real purpose, the executives claim, was to develop hugely expensive properties bearing the Trump brand—and then use the projects to launder money and evade taxes.
The lawsuit, which is ongoing, does not claim that Trump was complicit in the alleged scam. Bayrock dismissed the allegations as "legal conclusions to which no response is required." But last year, after examining title deeds, bank records, and court documents, the Financial Times concluded that Trump SoHo had "multiple ties to an alleged international money-laundering network." In one case, the paper reported, a former Kazakh energy minister is being sued in federal court for conspiring to "systematically loot hundreds of millions of dollars of public assets" and then purchasing three condos in Trump SoHo to launder his "ill-gotten funds."
During his collaboration with Bayrock, Trump also became close to the man who ran the firm's daily operations—a twice-convicted felon with family ties to Semion Mogilevich. In 1974, when he was eight years old, Felix Sater and his family emigrated from Moscow to Brighton Beach. According to the FBI, his father—who was convicted for extorting local restaurants, grocery stores, and a medical clinic—wasa Mogilevich boss. Sater tried making it as a stockbroker, but his career came to an abrupt end in 1991, after he stabbed a Wall Street foe in the face with a broken margarita glass during a bar fight, opening wounds that required 110 stitches. (Years later, in a deposition, Trump downplayed the incident, insisting that Sater "got into a barroom fight, which a lot of people do.") Sater lost his trading license over the attack, and served a year in prison.
In 1998, Sater pleaded guilty to racketeering—operating a "pump and dump" stock fraud in partnership with alleged Russian mobsters that bilked investors of at least $40 million. To avoid prison time, Sater turned informer. But according to the lawsuit against Bayrock, he also resumed "his old tricks." By 2003, the suit alleges, Sater controlled the majority of Bayrock's shares—and proceeded to use the firm to launder hundreds of millions of dollars, while skimming and extorting millions more. The suit also claims that Sater committed fraud by concealing his racketeering conviction from banks that invested hundreds of millions in Bayrock, and that he threatened "to kill anyone at the firm he thought knew of the crimes committed there and might report it." In court, Bayrock has denied the allegations, which Sater's attorney characterizes as "false, fabricated, and pure garbage."
By Sater's account, in sworn testimony, he was very tight with Trump. He flew to Colorado with him, accompanied Donald Jr. and Ivanka on a trip to Moscow at Trump's invitation, and met with Trump's inner circle "constantly." In Trump Tower, he often dropped by Trump's office to pitch business ideas—"just me and him."
Trump seems unable to recall any of this. "Felix Sater, boy, I have to even think about it," he told the Associated Press in 2015. Two years earlier, testifying in a video deposition, Trump took the same line. If Sater "were sitting in the room right now," he swore under oath, "I really wouldn't know what he looked like." He added: "I don't know him very well, but I don't think he was connected to the mafia."
Trump and his lawyers say that he was unaware of Sater's criminal past when he signed on to do business with Bayrock. That's plausible, since Sater's plea deal in the stock fraud was kept secret because of his role as an informant. But even after The New York Times revealed Sater's criminal record in 2007, he continued to use office space provided by the Trump Organization. In 2010, he was even given an official Trump Organization business card that read: FELIX H. SATER, SENIOR ADVISOR TO DONALD TRUMP.
In 2013, police burst into Unit 63A of Trump Tower and rounded up 29 suspects in a $100 million money-laundering scheme.
Sater apparently remains close to Trump's inner circle. Earlier this year, one week before National Security Advisor Michael Flynn was fired for failing to report meetings with Russian officials, Trump's personal attorney reportedly hand-delivered to Flynn's office a "back-channel plan" for lifting sanctions on Russia. The co-author of the plan, according to the Times: Felix Sater.
In the end, Trump's deals with Bayrock, like so much of his business empire, proved to be more glitter than gold. The international projects in Russia and Poland never materialized. A Trump tower being built in Fort Lauderdale ran out of money before it was completed, leaving behind a massive concrete shell. Trump SoHo ultimately had to be foreclosed and resold. But his Russian investors had left Trump with a high-profile property he could leverage. The new owners contracted with Trump to run the tower; as of April, the president and his daughter Ivanka were still listed as managers of the property. In 2015, according to the federal financial disclosure reports, Trump made $3 million from Trump SoHo.
---
In April 2013, a little more than two years before Trump rode the escalator to the ground floor of Trump Tower to kick off his presidential campaign, police burst into Unit 63A of the high-rise and rounded up 29 suspects in two gambling rings. The operation, which prosecutors called "the world's largest sports book," was run out of condos in Trump Tower—including the entire fifty-first floor of the building. In addition, unit 63A—a condo directly below one owned by Trump—served as the headquarters for a "sophisticated money-laundering scheme" that moved an estimated $100 million out of the former Soviet Union, through shell companies in Cyprus, and into investments in the United States. The entire operation, prosecutors say, was working under the protection of Alimzhan Tokhtakhounov, whom the FBI identified as a top Russian vor closely allied with Semion Mogilevich. In a single two-month stretch, according to the federal indictment, the money launderers paid Tokhtakhounov $10 million.
Tokhtakhounov, who had been indicted a decade earlier for conspiring to fix the ice-skating competition at the 2002 Winter Olympics, was the only suspect to elude arrest. For the next seven months, the Russian crime boss fell off the radar of Interpol, which had issued a red alert. Then, in November 2013, he suddenly appeared live on international television—sitting in the audience at the Miss Universe pageant in Moscow. Tokhtakhounov was in the VIP section, just a few seats away from the pageant owner, Donald Trump.
After the pageant, Trump bragged about all the powerful Russians who had turned out that night, just to see him. "Almost all of the oligarchs were in the room," he told Real Estate Weekly. Contacted by Mother Jones, Tokhtakhounov insisted that he had bought his own ticket and was not a VIP. He also denied being a mobster, telling The New York Times that he had been indicted in the gambling ring because FBI agents "misinterpreted his Russian slang" on their Trump Tower wiretaps, when he was merely placing $20,000 bets on soccer games.
Both the White House and the Trump Organization declined to respond to questions for this story. On the few occasions he has been questioned about his business entanglements with Russians, however, Trump has offered broad denials. "I tweeted out that I have no dealings with Russia," he said at a press conference in January, when asked if Russia has any "leverage" over him, financial or otherwise. "I have no deals that could happen in Russia, because we've stayed away. And I have no loans with Russia. I have no loans with Russia at all." In May, when he was interviewed by NBC's Lester Holt, Trump seemed hard-pressed to think of a single connection he had with Russia. "I have had dealings over the years where I sold a house to a very wealthy Russian many years ago," he said. "I had the Miss Universe pageant—which I owned for quite a while—I had it in Moscow a long time ago. But other than that, I have nothing to do with Russia."
But even if Trump has no memory of the many deals that he and his business made with Russian investors, he certainly did not "stay away" from Russia. For decades, he and his organization have aggressively promoted his business there, seeking to entice investors and buyers for some of his most high-profile developments. Whether Trump knew it or not, Russian mobsters and corrupt oligarchs used his properties not only to launder vast sums of money from extortion, drugs, gambling, and racketeering, but even as a base of operations for their criminal activities. In the process, they propped up Trump's business and enabled him to reinvent his image. Without the Russian mafia, it is fair to say, Donald Trump would not be president of the United States.
Semion Mogilevich, the Russian mob's "boss of bosses," also declined to respond to questions from the New Republic. "My ideas are not important to anybody," Mogilevich said in a statement provided by his attorney. "Whatever I know, I am a private person." Mogilevich, the attorney added, "has nothing to do with President Trump. He doesn't believe that anybody associated with him lives in Trump Tower. He has no ties to America or American citizens."
Back in 1999, the year before Trump staged his first run for president, Mogilevich gave a rare interview to the BBC. Living up to his reputation for cleverness, the mafia boss mostly joked and double-spoke his way around his criminal activities. (Q: "Why did you set up companies in the Channel Islands?" A: "The problem was that I didn't know any other islands. When they taught us geography at school, I was sick that day.") But when the exasperated interviewer asked, "Do you believe there is any Russian organized crime?" the "brainy don" turned half-serious.
"How can you say that there is a Russian mafia in America?" he demanded. "The word mafia, as far as I understand the word, means a criminal group that is connected with the political organs, the police and the administration. I don't know of a single Russian in the U.S. Senate, a single Russian in the U.S. Congress, a single Russian in the U.S. government. Where are the connections with the Russians? How can there be a Russian mafia in America? Where are their connections?"
Two decades later, we finally have an answer to Mogilevich's question.
Read the whole story
· · · · · · · · · · · · · · · ·

New Republic

Trump's Russian Laundromat

New Republic

"They saved his bacon," says Kenneth McCallion, a former assistant U.S. attorney in the Reagan administration who investigated ties between 

organized crime

 and 

Trump's

 developments in the 1980s. It's entirely possible that 

Trump

 … After Vladimir 

…
 Trump, Putin and organized crime – Google News
Next Page of Stories
Loading…
Page 13
Amid all the controversy over Russian hacking, interference and propaganda efforts in the United States and Europe, there's a growing concern among national security leaders that not enough is being done to stop the efforts. That's why a large group of senior figures from both parties is launching a new effort to track and ultimately counter Russian political meddling, cyber-mischief and fake news.
The roster of figures who have signed onto the new project, called the Alliance for Securing Democracy, is a who's who of former senior national security officials from both parties. The advisory council includes former Homeland Security secretary Michael Chertoff; former acting CIA director Michael Morell; former House Intelligence Committee chairman Mike Rogers; Adm. James Stavridis, former NATO supreme Allied commander, Europe; John Podesta, former chairman of Hillary Clinton's 2016 presidential campaign; Jake Sullivan, former national security adviser to Joe Biden; and former Estonian president Toomas Hendrik Ilves.
The project will be housed at the German Marshall Fund (GMF) and will be run day to day by a staff led by Laura Rosenberger, a former senior State Department official in the Obama administration, and Jamie Fly, former national security counselor to Sen. Marco Rubio, R-Fla.
"This threat to our democracy is a national security issue. Russia is waging a war on us. They are using different kinds of weapons than we are used to in a war," Rosenberger said. "We need to do a much better job understanding the tools the Russians are using and that others could use in the future to undermine democratic institutions and we need to work closer with our European allies who also are subjected to this threat."
The idea is to create a platform and repository of information about Russian political influence activities in the United States and Europe that can be the basis for cooperation and a resource for analysts on both sides of the Atlantic to push back against Russian meddling.
The project aims to be able to eventually map out Russian disinformation on social networks, cyber-efforts, financial flows, broader state-level cooperation and even Russian government support for far-left or far-right parties in other countries.
"In a perfect world, we would have a national commission that would be looking into exactly what happened, exactly what did the Russians do and what can we do as a nation to defend ourselves going forward and deter Putin from ever doing this again," Morell told me. "We all know this is not going to happen, so things like the GMF effort are hugely important to fill the gap."
One of the first outputs, coming soon, is going to be an online digital dashboard that will allow for tracking of Russian disinformation through fake news stories as well as narratives being pushed by Russian-sponsored social media figures. The project will attempt to map how Russian government-promoted information is spread though the American and European media landscapes.
"The Russians are playing in a broader scope of issues here than just the election," Morell said. "I wouldn't be surprised to learn that the Russians are trying to divide us on issues from gay rights to race."
The goal of the project is not to re-litigate the 2016 presidential election or to investigate the issue of whether the Trump campaign either colluded or was used by Russia as part of its interference campaign. The premise is that the Russian interference is ongoing and that not enough is being done to understand and ultimately counter it.
"It's time for people who care about this issue to drop the partisanship and come together on this," said Chertoff. "The closer we get to 2018 and we don't see a huge amount of activity to get prepared, the more dire this is."
The project also doesn't want to overlap with the various investigations ongoing by the FBI and several congressional committees. But the premise is that more research can actually spur more U.S. government and congressional action to increase awareness, deterrence and resilience in the face of ongoing Russian efforts.
"Part of the problem is the administration hasn't been presented yet with a set of recommendations about how to confront this problem," said Fly. "The jury is still out on whether this administration will be willing to do the things necessary to secure our democracy."
Josh Rogin is a columnist for the Global Opinions section of The Washington Post. He writes about foreign policy and national security.
Read the whole story
· · ·
After months of speculation about the relationship between President Donald Trump's 2016 campaign and Vladimir Putin's Kremlin, hard evidence has at last emerged which is deeply damaging to the White House. This represents a turning point in the ever-more-complex saga of what I've termed KremlinGate, and how the Trump White House handles the revelation will determine its future—if it even has one.
This comes on the heels of the president's sidebar one-on-one meeting with his Russian counterpart last weekend at the G20 summit in Hamburg, Germany. Despite the fact that—as I recently noted—a meeting with the Kremlin leader (when the U.S. Intelligence Community says his spy services helped elect Trump last year) would seem to be the very last thing any sensible administration would want, Trump went ahead with it.
The meeting itself was awkwardly long, and afterwards neither side could agree on what was said. At a minimum, Trump allowed Putin to appear as his equal (and perhaps more, to examine the body language on display) and proceeded to go along with the Kremlin line that Russian intelligence played no nefarious role in keeping Hillary Clinton from the White House. That is dismissed as blatant deception by our spy agencies, yet appears to be accepted by Trump and his minions, extensive intelligence evidence to the contrary.
To make matters worse, once he was home, Trump fired off numerous combative tweets about his relationship with Putin, including the stunning idea that he and the Kremlin boss had discussed setting up a joint cybersecurity unit with Moscow to ensure the integrity of future elections. This, simply put, was the most shocking policy suggestion uttered by any American president in my lifetime—and quite possibly ever.
To get this straight: Trump wanted to share American cyber-secrets with the country whose spy services illegally and clandestinely helped put him in the White House, and which continue to cyber-pillage our government and economy right now, in real time.
Needless to add, this suggestion—which was quickly compared to establishing a joint counterterrorism unit with the Islamic State—was met with outrage and ridicule, including from prominent Republicans. As a result, the president backed off on Twitter once it became evident he had mishandled the matter. Nevertheless, the proposed joint cybersecurity initiative with Moscow stands as a telling example of the fact that Trump either has no idea that Russia represents a serious threat to our national security—or he simply doesn't care.
Subsequent Twitter admissions from the president add to such questions. Trump admitted that he had discussed the ongoing (highly classified) counterintelligence investigation of Russia's 2016 hacking of the Democrats with Putin and his entourage—who are the very subjects of that investigation. At this point, Trump is either broadcasting his once-secret relationship with the Kremlin or he may not be in his right mind. It's difficult to find a third possibility to explain such unprecedentedly bizarre behavior by America's commander-in-chief.
As if all this weren't enough, The New York Times then broke the story that, on June 9, 2016, shortly after the president had clinched the Republican nomination for the presidency, Donald Trump, Jr. and other key members of Trump's inner circle met in New York City with a prominent Kremlin-connected Russian lawyer, ostensibly to discuss adoptions!
This flies in the face of repeated denials from the president and his inner circle—to include Don Jr.—that they had contact with Russians during last year's campaign. It's difficult to imagine that, at the height of said campaign, key members of Team Trump had time to chat about adoptions. It's even more difficult to imagine that's what they really discussed.
The lawyer in question, Nataliya Veselnitskaya, has an unsavory reputation for her links to Putin, particularly regarding efforts to get Western sanctions lifted off the ailing Russian economy. Her ties to Moscow's spy services are hardly a secret either, per the observation of Bill Browder, one of the top Western whistleblowers about the official crime and corruption which underpin Putinism: "There's no mystery about her background," he stated about Veselnitskaya, adding, "I'd be surprised that anyone who had done due diligence would have agreed to meet her, considering her sketchy CV."
Now, Veselnitskaya has ritually denied her Kremlin connections, as is de rigueur among Putin's friends and associates. "Never believe anything until the Kremlin denies it" is a venerable old wag among Russia-watchers with good reason. However, what's far more important is the revelation that Don Jr. and company wanted to meet with her precisely because they knew of her official ties in Moscow.
A follow-on report by the Times, which can be fairly termed a bombshell, makes clear that Team Trump sought to parley with Veselnitskaya because they believed she had incriminating information about Hillary's Clinton's ties to the Kremlin. They wanted what the Russian call kompromat on the Democrats—precisely what Russian hackers were in the process of stealing. It's not difficult to imagine why Team Trump, which was grappling with its own allegations of unsavory ties to Putin, would want to counter those with information showing that Team Hillary, too, was in bed with the Kremlin.
However, Veselnitskaya reportedly brought no such gifts to the meeting, and the president's firstborn was disappointed about the lack of kompromat after he had expressed his "love" for potentially damaging information about Hillary, according to the Times.
Now, in a truly shocking turn of events, Don Jr. has released several emails via Twitter about the background of that June 9, 2016 meeting. He did so after the Times, which had them already, asked for his comments. In the email chain, Don Jr. makes his position indelibly clear on the meeting proposed by Rob Goldstone, a shady publicist with Kremlin clients, who said the get-together was part of "Russia and its government's support for Mr. Trump."
Goldstone promised that the "Russian government attorney"—that's Veselnitskaya—would deliver "very high level and sensitive information" from Russian prosecutors, including "some official documents and information that would incriminate Hillary and her dealings with Russia." To anybody sentient, that's a promise of intelligence information about Hillary from Russian spy agencies, to be delivered through a trusted Kremlin intermediary.
There have been no denials from the Trump camp of the veracity of this account—after all, Don Jr. is the source of these emails. However, White House spokespeople are already explaining that "everybody does it" and, really, it's no big deal to talk to Russians anyway. Besides, they note, no secret information changed hands: Veselnitskaya didn't deliver the promised goods.
But the meeting—which was knowingly arranged with a representative of Putin's government—may have violated a raft of Federal laws, which makes Don Jr.'s public admission of his culpability so stunning. Moreover, that no kompromat was traded makes little difference here. You don't have to commit the crime to get arrested for it; planning and attempting to do so can be enough to get arrested—as any viewer of NBC's popular reality show To Catch a Predator knows.
What happens next is anybody's guess. Congress is already making noise about getting Don Jr. to testify about his now-infamous meeting. It's telling that the president, who loves to taunt enemies with his tweets, so far has been silent on Twitter about his son's growing legal problem. Trump's silence here appears highly revealing, and is perhaps an indication of the panic which has descended on the White House in recent days.
A siege mentality has set in on the West Wing, according to press reports, and nobody is eager to take the fall for Don Jr., who is disliked by most White House staffers, who view him as a dangerous buffoon. It's difficult to spin the debacle he created here as anything but utterly disastrous for the Trump administration.
The key question lingering, of course, is: What did the president know and when did he know it?—to cite the legendary Watergate line. If Trump was aware of the June 9, 2016 meeting, he too may be in grave legal jeopardy.
Regardless, months of lies from Team Trump, their repeated, flat-out denials of any links to Moscow, have been exploded by Don Jr.'s public admission. In the middle of last year's campaign, members of the president's inner circle wanted Moscow's kompromat on Hillary Clinton, a fact which amounts to witting collusion with hostile foreign intelligence.
This is a game-changer for the KremlinGate inquiry and, while it's not the beginning of the end by any means—this is such a complex case that it will likely take Special Counsel Bob Mueller and his platoons of seasoned investigators years to unravel it all—it appears to be, as Winston Churchill famously said of British victory at El Alamein in the fall of 1942, the end of the beginning.
John Schindler is a security expert and former National Security Agency analyst and counterintelligence officer. A specialist in espionage and terrorism, he's also been a Navy officer and a War College professor. He's published four books and is on Twitter at @20committee. 
Read the whole story
· · · · · ·
Americans once had a shared commitment to the traditional liberal demo